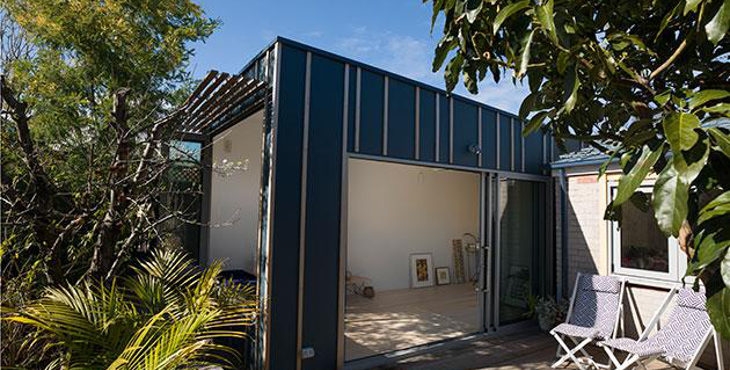 A custom modular home extension creates the perfect narrow block design
Overview
Project Type: Single Story Extension with Narrow Block Design
Location: Brunswick East, 3056, Victoria
Property Site Dimensions: 347m
Development Size: 1 Module
New Studio: 49.62m2
New Deck: 19.87m2
Brief: Design a multifunctional sustainable building with separate but integrated work studio space. The room needed to maximise natural light and provide a space which could be flexible enough to create a tranquil yoga studio space as well an area which could be easily screened off to operate as a separate office space. The modular extension needed to seamlessly be connected to the existing dwelling yet have the ability to be closed off from the rest of the house.
Design Theme: Custom design using a bespoke size module.
Services Completed: Site Assessment, Building Design, Interior Design, Construction, Transport and Delivery, Project management.
Project Implementation: Duration: 18 weeks.
Completion Date: May, 2017
Results: A functional, stylish and energy efficient studio and office space was created in just 18 weeks using sustainable materials and passive solar design.
Background
Shelley, a yoga teacher in Brunswick wanted to extend to her existing home to create a new yoga instruction space that was sustainable, tranquil, and a place that would attract new clients and retain existing clients.
Competition for Yoga instruction businesses in Melbourne's trendy inner suburb of Brunswick was fierce, and Shelley knew that to help her business stand out and succeed she needed to differentiate her brand and create a calming studio space that would reflect her service. So it was imperative for the sustainable home extension in Brunswick to attach to the existing semi-detached terrace. The new addition was unique, purpose-built and provided a balance of space and light throughout.
With a limited budget and a small narrow area on which to build, Shelley was concerned about the effect of construction noise and mess an onsite build would create. She'd researched onsite builders for a home office studio renovation, but each time concerns would arise around the quality, speed and costs of on-site construction. After researching various options and reading about the emergence of modular prefab building trends in the Australian market, Shelley found Ecoliv Buildings and was instantly interested to learn more about the benefits associated with a prefab, sustainable home extention in Brunswick and how she could ensure her addition project would be eco friendly, designed with passive solar principles and use locally sourced sustainable materials.
Ecoliv Buildings sustainability principles reflected the environmental values of her yoga business and her desire to create a space which was healthy, in harmony with nature and minimised environmental impact.
The Challenges
A standard 4.5m wide module did not suit the narrow footprint of the Brunswick property.
The design needed to incorporate a fire rated wall on the boundary to the abutting laneway.
The very narrow site access and a narrow inner city street posed a delivery challenge.
The Objectives
Create a multifunctional home studio space using 1 modular building structure.
Maximise natural light to create a light-filled, peaceful yoga space.
The Solutions
A custom designed 3.4m wide module was built to fit in the narrow backyard area between the side of the house and the abutting laneway.
A fire separation wall with certified fire resistant level (FRL) materials was built into the boundary wall which bordered onto the laneway. This fire rated barrier was finished with external paint to match the rest of the exterior and interior.
The challenging narrow street and site access and was overcome by the experience and expertise of our delivery teams and trucks. The modular extension was able to be transported and installed at the property in Brunswick using a standard truck delivery which avoided the costly hire of a crane.
The office and yoga studio was divided using a joinery unit which also serves as storage and shelves for the office.
The bathroom and toilet was built into the module at the back of the yoga space and positioned before the office area to provide easy access for student before, after and during classes. The bathroom has floor to ceiling tiles with bespoke finishings to ensure complete privacy and a luxurious atmosphere.
External colours selected to seamlessly integrate with colours of the existing home.
Internal palette features crisp white and natural white washed timber to create a fresh interior with a subtle nod to nature.
Low VOC internal finishes. A formaldehyde content of less than 1mg/litre was used in all finishings to ensure a low toxin, healthy indoor environment.
Windows were strategically placed to maximise cross ventilation and air quality.
Glazing is oriented to the north to capture northern sunlight and provide access to the adjoining deck and garden area.
Materials
Insulation batts made from recycled glass wool and sand were used in the ceilings and walls. The high thermal performance insulation provides optimal comfort in winter and summer and has been projected to reduce Shelly's heating and cooling costs by 50%.
Double glazing windows were used.
Engineered wood flooring from Parador provides a real timber floor, with protection layer technology and surface treatment to produce a stylish and durable finish.
Low/zero volatile organic compound (VOC) paints to avoid toxins and help create healthy indoor air quality for years to come.
Weathetex timber cladding made from environmentally sustainable Australian hardwood was used on the exterior walls. Weathertex is an Australian company who use PEFC certified state forest or private hardwoods from controlled sources. The logs are chipped, pulped and pressed with 3% natural wax to make Australian timber products that are completely natural with no chemical additives.
Results
A smart, open, multifunctional space which has the flexibility to be separated into 2 areas and different layouts. This is achieved using a joinery unit on castors which can be easily moved around the room to accommodate special requirements and meet the growing needs of the business.
The passive design, insulation and 7 star energy rating assists in providing a space that is not reliant on artificial heating and cooling to provide comfortable internal temperatures year round and associated energy costs.
The flexibility to choose a range of sustainable high quality fixtures and fittings helped Shelley achieve a comfortable and healthy space with a sense of nature inspired luxury.