While prefabricated building methods have been used since AD 43, it's only in recent decades that prefab building has experienced a resurgence in popularity — thanks to the benefits of a streamlined building process, fewer project delays, and less construction material waste.
In fact, in 2019 the Australian government granted PrefabAUS (the leading body for Prefabrication in Australia) $28 million to invest in manufacturing buildings to reduce project delay by 40%, limit building waste by 80%, and cut CO2 emissions by 50%, according to Mordor Intelligence.
What are prefab homes?
Prefabricated building is an all encompassing term for buildings that are partially or entirely constructed off-site. In other words, unlike traditional construction, they're not built where your house will eventually stand.
The home (or part of it) is built in a separate facility which is then delivered to the final building location where it is installed. Traditional construction instead refers to homes that are built on the site where the occupants will reside.
It's also worth distinguishing between the terms 'prefab' and 'modular': while they're often used interchangeably, they're not exactly the same thing. A modular home is just one kind of prefab building – but prefab buildings aren't always modular. Modular buildings are constructed off-site (like all prefab homes) and delivered as complete volumetric modules to the site. Read more about the different types of prefabricated buildings.
At Ecoliv, our buildings are modular – they're constructed in a quality-controlled facility and then delivered to your building site in complete volumetric modules. The home is 95% complete before it arrives on site – including walls, floor, ceiling, wiring, plumbing and interior fittings. This differs to traditional building methods where construction materials will be delivered to the building site and constructed on the premises.
A common misconception about prefabricated homes is that they cannot be customised to suit the preferences of the homeowner. This is not true – while prefabricated homes can be constructed from pre-designed modules, there are also custom design options.
Prefab vs. traditional: pros and cons
There are several factors to take into consideration when building a new home – including but not limited to budget, time constraints, and sustainability. We've compiled some of the key things to consider, and how prefab measures up when compared to traditional methods of construction.
Environmental impact
The Australian construction industry created more than 20.4 million tons of waste in 2017 alone, with 6.7 million tons of this being sent to landfill between 2016 and 2017.
Ecoliv's prefab designs allow us to use standard sizes and lengths in building materials – which results in less wastage during the construction process. All excess materials that don't get used are recycled or reused.
Prefabricated construction has a significant environmental advantage over traditional building. Because prefab homes are built in a controlled facility, there is usually little site disturbance, less earth moving, and little or no disruption to local flora and fauna.
At Ecoliv, we also use low embodied energy materials in the construction process which provides a better sustainability outcome in terms of operational energy usage.
Time
Prefabricated builds typically require less time to build than traditional ones. Prefab homes are built in a controlled environment meaning there are no weather delays and builders have quick and direct access to the building site.
While construction times for traditionally constructed homes can vary, the Australian average is between 4 to 12 months – depending on the complexity of the build and whether it is pre-designed or not. Ecoliv prefabricated homes comparatively take approximately 16 weeks to build, with added certainty that weather conditions won't dictate the build time.
Cost
Despite prefabricated homes being much more resource efficient in the building process and including less material wastage – it is a subject of debate whether they are associated with lower building costs in the Australian market.
This being said, the speed with which prefab homes can be built compared with traditionally constructed homes means you can occupy the home more quickly – resulting in associated savings in rent. In addition, the energy efficiency of the final build can mean lower energy costs in the short and long-term.
Each Ecoliv prefab modular home is fit with a 1.98kw solar power system, a 10,000 litre water tank, and achieves at least a 7-star energy rating. This means that by purchasing a prefab modular home from Ecoliv you can reduce your overall living costs by up to 30% – a major sustainability and cost outcome for prefab homes over traditional builds.
Find our tips for getting a loan for a modular home on our blog.
Durability/longevity
Durability and longevity is a significant focus for prefabricated homes – partly because they have to be delivered to the building site without being damaged in transit. This means materials and construction must be robust so as to ensure the home is not damaged in any way while transporting.
Typically prefab modular homes are also built in a controlled construction facility – meaning strict quality control is often easier to ensure than when built on-site.
Prefab modular homes can also be constructed to withstand extreme climate conditions, including desert, alpine and cyclone prone locations. When we build our prefab modular homes, the weather conditions of each site are taken into account to ensure materials and insulation standards are met. Ecoliv homes can also be designed up to the FZ Bushfire Attack Level rating.
In addition, Ecoliv builds homes using timber from Gippsland's renewable plantations. This significantly reduces the negative environmental effects that can arise during the construction and lifecycle of our buildings. Research has shown that using timber for framing and trusses can save up to 23 tonnes of carbon per home.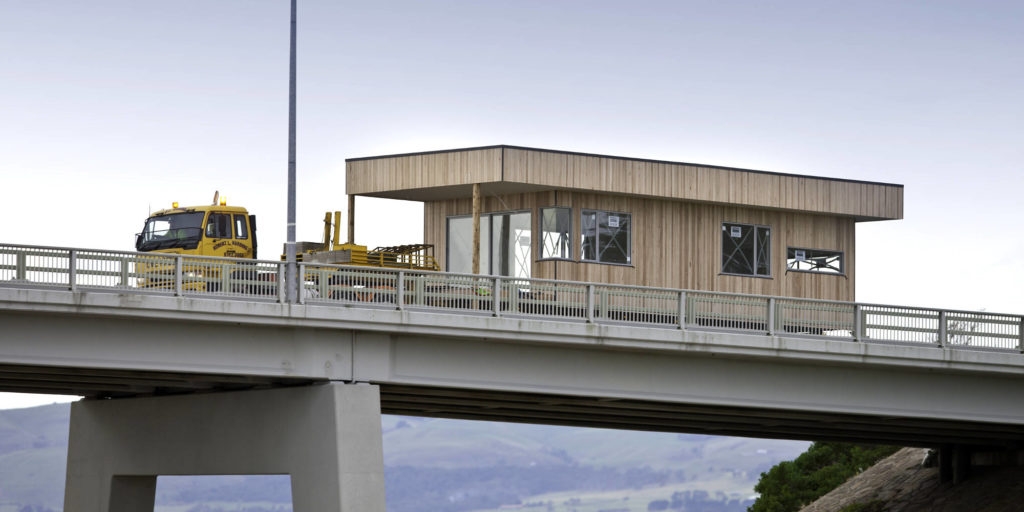 Resale value
Prefab modular homes are appraised in the same way that traditional homes are. The resale value of your home isn't dictated by whether it is prefabricated or not, but rather the location, amenities, quality of materials, among other key factors.
Prefab modular homes can be ideal for those seeking out an investment property – they're compact and low maintenance which makes them perfect for investment as either permanent or holiday homes.
Learn more on the blog: What Exactly is A Prefab Home And Why You Need One?
Which should you choose: prefab or traditional construction?
Ultimately the choice between prefab and traditional construction for your home is yours to make, and some deciding factors – for example, whether you're able to build an energy efficiency home – will depend on the individual construction company you're looking at.
At Ecoliv, we're committed to significantly reducing household energy requirements throughout the lifecycle of the home, while building beautiful homes that suit our clients' exact needs. You can contact us today to find out more, or read more about the Ecoliv process.