The modern day focus on sustainable lifestyles revolves around movements like slow living and being more in tune with the environment around us. So how does a quickly constructed, prefabricated, modular home fit into this picture? Let's explore a few common queries about prefab homes.
First of all, what is a prefabricated home? Is it the same thing as a modular home?
You may have heard people using terms like 'prefab' or 'modular' interchangeably, and while they are certainly related, the terms can be clearly distinguished. A modular home is one type of prefabricated, or 'prefab' building, but a prefab isn't always modular. Prefab simply means that the home is constructed off-site and assembled and installed onsite. It can be prefabricated in modules, or in other ways. Ecoliv homes use off site prefabricated construction and are delivered as complete volumetric modules to site. Read more about the different types of prefab buildings.
Learn about the differences in this article: Prefab Construction, Kit Homes & Modular Homes Explained.
How do prefab modular homes place in the property market?
This is a common question for anyone considering resale or building an investment property. Modular homes are appraised in the same way as tradditional homes, and can absolutely be ideal candidates for investment properties. Prefab modular homes are compact and low maintenance making them a great investment for either permanent or holiday homes.
Just like conventionally constructed homes, modular homes fall under the same planning and permit requirements as any building. All homes do require building permits, which are issued by building surveyors or certifiers. The requirements of a Town Planning or Development Approval will depend on the state you reside in and the specific requirements of your site.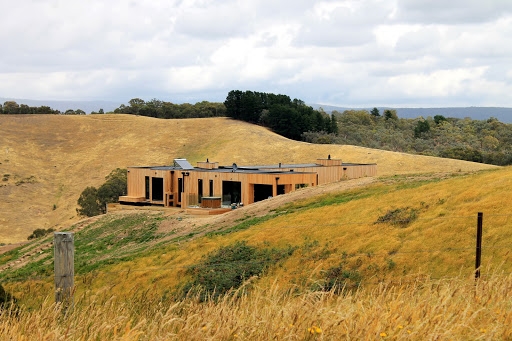 Can a prefab house be personalised, or do they have a standardised design?
The answer is yes, to both questions.
Ecoliv's Eco Range of modular homes have standardised sizes and floor plans in order to optimise efficiency and minimise costs. The Eco Range has been created to ensure spacial functionality within the size constraints for off site construction and delivery.
Adhering to a maximum dimension of 4.5m wide by 15m long, by 3.8m high ensures ease of delivery and transport to site. Each design is orientated to suit the site to obtain optimal energy ratings and minimise artificial heating and cooling requirements.
With these considerations, Ecoliv prefab modular homes are still absolutely customisable, and we work closely with our clients to ensure that their home is efficient but also feels homely. Ecoliv modules can also be added as an extension to existing homes and buildings (currently in Victoria only). Additionally, all of our modular homes are designed following an initial assessment of the site environment in order to personalise the home to its surroundings.
Also on the blog: how to build a modular home
How long does it take to build prefab and modular homes?
One of the great benefits of prefabricated homes is the reduced build time. Construction for our standard single storey modular homes is generally around 20 weeks. Custom designs may take longer depending on the complexity of the design but we make sure to keep our clients in the know with progress updates along the way.
Factory prefabrication occurs in one of our two our construction facilities in Victoria and NSW. Before installation, a footing system is installed to suit each site which requires reduced excavation and disturbance to the local environment than traditional building practices.
The prefab build process prevents common building delays as all building inspections are done in the construction facility. The process also harnesses economies of scale when ordering materials and scheduling efficiencies.
Read about construction turnaround in this article covering the differences between prefab buildings and traditional construction.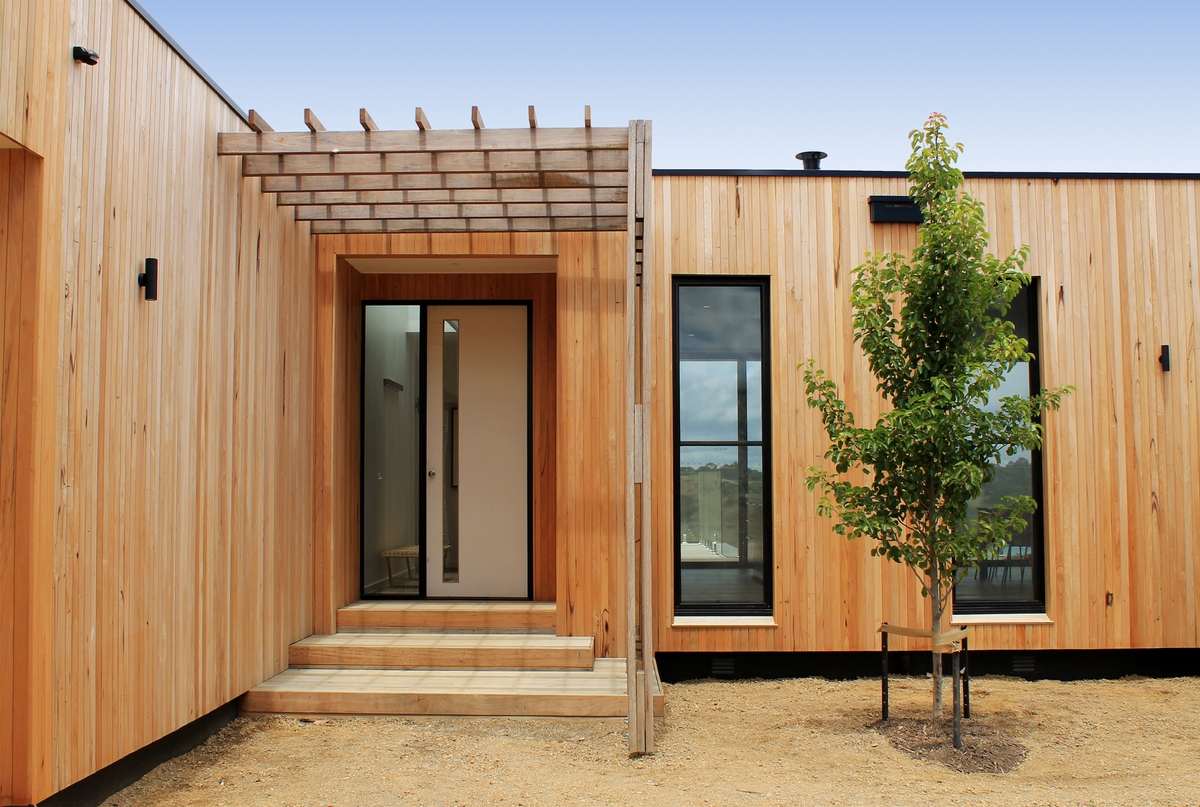 Can modular homes be delivered on a sloping site?
During the Preliminary Design Stage, our building designers assess the property orientation, site contours, and soil type to create a module configuration that is both energy efficient and suited to your location. A benefit of building a modular home on a sloping site is that an engineered footing system is installed prior to module delivery which minimises site impact and neighbourhood disturbance, making the installation process quick and easy.
Can they withstand extreme climates?
Modular homes can also be constructed to suit specific climates including desert, alpine, and cyclone prone areas. Weather conditions for each site are taken into consideration when planning insulation, external materials, and other features.
Can prefab homes be built to BAL requirements?
If you live in a bushfire area then a Bushfire Attack Level (BAL) is required so that the appropriate design and materials are specified. Ecoliv prefab modular homes can be designed to suit any BAL in Australia, from a BAL low to the highest BAL FZ (Flame Zone). Our Callala Beach Project adhered to BAL FZ requirements. See here.
Can prefab modular homes be built to live off-the-grid?
All our Ecoliv prefab modular homes can be equipped to live off-the-grid. The term off-the-grid (OTG) can refer to living in a self-sufficient manner without reliance on one or more public utilities. A true off-grid house is able to operate completely independently of all traditional public utility services.
Solar panels and sufficient water tanks are essential if you're thinking about living off the grid. A 1.8Kw Solar system and 10,000 liter water tank are standard inclusions with Ecoliv Buildings. These items can be upgraded and grey/black water systems added to provide an off-the-grid home. See our latest off grid Jindabyne Project here.
To sum things up, what are the main benefits of prefabricated modular homes?
At Ecoliv, we work closely with our clients to produce homes that are energy efficient, suited to the site and provide a timeless architectural style. Prefab modular housing helps our clients meet these goals in the following ways:
Designs and materials consider the environment, client aesthetics, and energy efficiency ratings.
Sustainable inclusions such as a 1.8kw solar power system and 10,000 litre water tank reduce reliance on mains utilities reducing the cost of running of the home into the future.
Construction requires far less on-site disturbance with less noise pollution, less earth moving, and less disruption to local flora and fauna.
Build times are much faster than traditional construction times and are protected from weather delays or onsite inspections.
Prefab modular homes are created in modules which can be fitted perfectly to narrow, inner-city locations, or built into larger structures where appropriate.
Ecoliv homes can be designed to suit any climate in Australia, as well as sloping sites, bushfire prone areas and off grid remote areas.
Prefab modular homes contribute to sustainable living around Australia.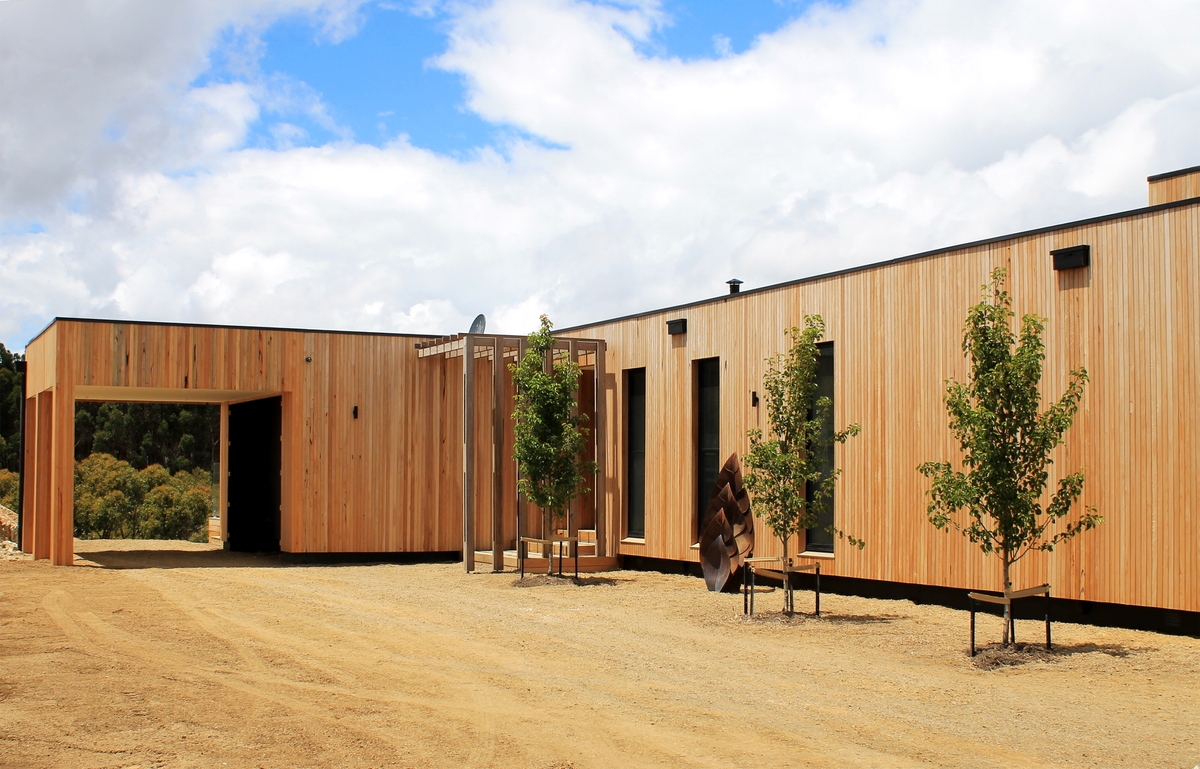 Ready to start your prefab modular project? Get in touch today or check out our guide to getting a loan for a prefab home.