Building a new modular home is exciting. It's a golden opportunity to design your dream house in the perfect locale, and really there is nothing like that new home feeling. Here at Ecoliv, we love helping you plan your new home, and a common question we are often asked is how to find the best site for an Ecoliv modular home and what to look for before you sign a contract.
A familiar scenario...
You have found your dream site...but it's on a slope. Family & friends zealously debate the pitfalls and additional costs associated with building on a sloping block!
Here at Ecoliv we are experienced sloping site builders and we revel in the challenge to design, construct and deliver your dream home on your dream sloping site. On time and on budget.
Our industry experience and design acumen put us in good stead to inform you of the constraints and additional costs to be considered before committing to your purchase (and have you well versed to confidently report back to wary family & friends.)
Understanding that knowledge is power, we've outlined the key elements for you to investigate and analyse if you are considering building on a sloping block and why good research is so important to streamline your build process.
Whilst these key elements apply to all land purchases we are focusing on the frequently asked question:
Do you build on sloping sites?
Let's get started...
What is a sloping site?
A sloping site is a block of land with uneven levels of elevation, resulting in a slope from one end of the block to the other. Generally, a rise or fall of three metres or less across the building area is manageable for most builders. Anything greater than that and building costs start to increase significantly. Despite this, there are also many benefits of a sloping block and even more possibilities for beautiful and sustainable custom homes to be built upon them.
Can Ecoliv prefab modular homes be installed on sloping sites?
Yes. We can design a footing system to suit all sites, whether it's sloping bushland, a steep suburban block or a cliff top beach property. Custom footing systems for single, multiple level or split level configurations on sloping sites can be designed specifically to suit the gradient in the site. During the Preliminary design stage our building designers assess the property orientation, site contours, and soil type to create a module configuration that is both energy efficient and suited to your location. One of these sustainable features comes in the form of optimal solar orientation to maximise natural light and create the most energy efficient home while working with the land.
What is required for a Site Analysis?
1 Engage a geotechnical engineer A soil test is compulsory for every home site. Soil testing will assess the soil (ground conditions) moisture and composition to determine if the soil can withstand the forces applied to it, such as determining the footings required for the building weight. Each site is different and a soil test will ensure the appropriate footing system is designed for your new Ecoliv Building. Also be aware of the number of established trees on the property. If these need to be removed to make space for your home, you will need to check with the developer or Council first and apply for any necessary permits.
2 Engage a Land Surveyor The survey outcome shows the exact slope of the land, the precise location of services as well as neighbouring characteristics, providing the framework in which we can design and construct to suit the site.
What footing system is used in Ecoliv Buildings?
A site specific engineered stump/footing system will be designed to suit the site and design requirements of the module configuration. This is ascertained after a soil test and land survey is completed and positioning of the module on site during the preliminary design stage. The purpose of this custom footing is to ensure the building can work with the natural slope of the land and prevent excessive excavation.
Does it cost more to build on a sloping site?
Yes. Due to the additional resources required in building your home on a sloping block, the costs are going to be higher. Although initially, a sloping block of land can be cheaper to buy than a flat block. However, when you add your additional construction and site costs into the mix, the price of building does increase. When working out costs, it is also helpful to remember that you only need to consider the slope of the area of the block that you are intending to build on, not the entire block of land.
How much does it cost to build on a sloping site?
In general a slope with an incline less than 2 metres of fall is easier to build on, whilst a slope more than 2 metres requires the skill of an experienced building designer in order to keep costs within reach. Typically, the costs involved in building on a sloping site will increase by approximately $20,000 – $50,000 if your site has over a 2m fall, this is compared to a flat block.
How early can I establish the cost to build on a steep site?
There is considerable design work, selection of external materials, engagement of specialist service providers and reports required to establish known parameters to enable an accurate estimation. An exact cost of building can be provided when the design, internal and external materials are selected and engineering is complete.
How will my Ecoliv home be delivered?
One of the most vital aspects for a building to be delivered on a sloping site is access. For challenging sloping sites with limited access, Ecoliv deliver modules to site via truck and crane lift each module onto pre-prepared stumps/footings. Crane lifting modules require steel to be included in the construction, which enables the crane to attach and lift each module. Our engineers design the steel component to suit your design and delivery needs. As each site is different, a full site assessment is undertaken to ensure smooth coordination and delivery of your modules. In some cases, additional services may be required, such as power line works, traffic management and council permits.
A benefit of building with modular homes for sloping sites is that an engineered footing system is installed prior to module delivery which minimises site impact and neighbourhood disturbance making the installation process quick and easy.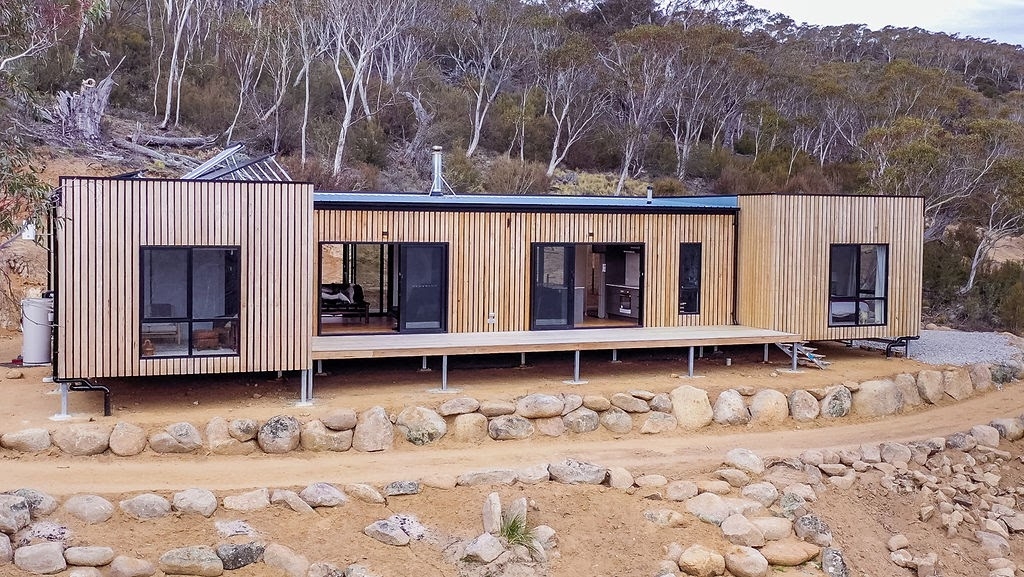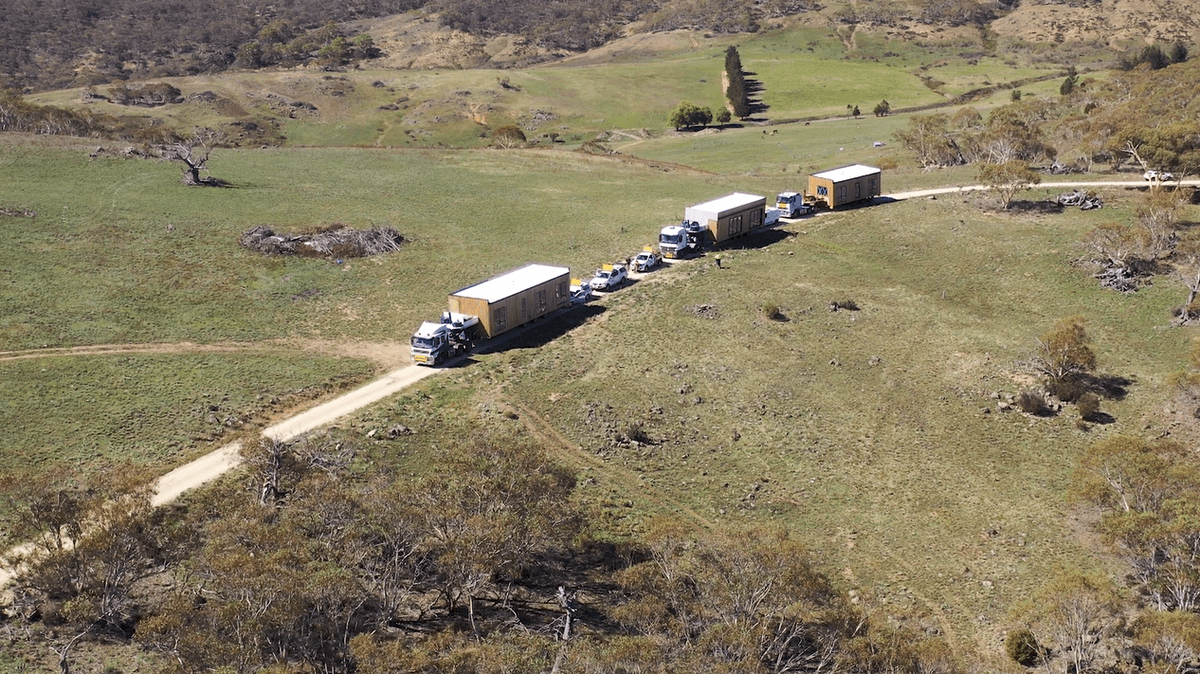 ---
What other site factors do I need to consider?
Climate and Vegetation
Ecoliv Building modules can be designed to suit any climate in Australia, while maintaining high levels of energy efficiency. Each module configuration will be designed to harness the site specific features of each block. So if you are in a tropical climate, materials and design will focus on ensuring the home is cyclone compliant and has the ability to facilitate cross flow ventilation and shading. Homes within an alpine region will require maximum insulation to ensure thermal comfort. Careful consideration is given if you are planning to live in an area prone to natural disaster or sever weather, such as wind exposure, heavy rainfall, risk of flooding and erosion, or is the area at risk of bush fires in which case construction methods need to comply with the BAL rating (Bushfire Attack Level).
Drainage
Designed correctly, the slope also means that drainage can occur naturally. If this is not possible then other drainage options need to be considered also adding to the construction cost. For example further excavation, stormwater pits, tanks, drainage corridors.
Direction of the Slope
An upward slope site, can be more expensive to build on than a downward slope because they tend to require more cut and fill.
Cut and Fill
The process of levelling out the land by cutting away some of the earth on the high side and moving it to the low side. The house can be designed as though it were on a level surface to avoid the need for elevated stumps. This process can help with certain types of sloping blocks and reduce some of the greater challenges of building on sloping property.
Retaining Walls
If you require the cut and fill method, it is likely that you will need to construct retaining walls to retain soil and reduce erosion.
Don't let a sloping site deter you.
Contact us to discuss the viability of constructing and delivering an Ecoliv modular home to your dream location.