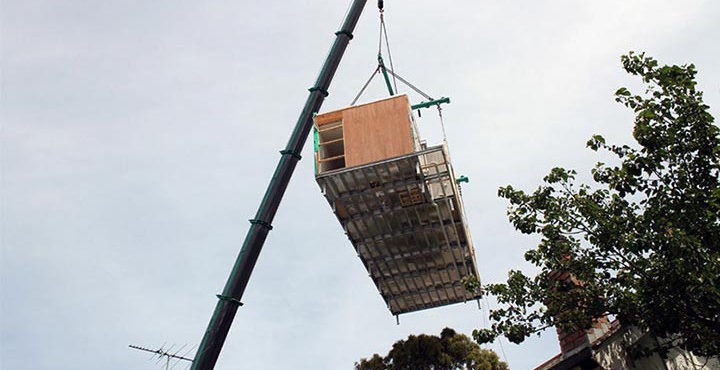 What is a Prefabricated Building?
A prefabricated building is a broad term that describes a building structure which is constructed either partially or fully off-site. Components are constructed and delivered to a location where they are installed or assembled to form the final building. The term prefabricated refers to a broad number of varying construction types that fit within a main category. The differences in each, are dictated by the type of construction which caters best to achieve the desired design outcome and addresses site constraints for delivery and for onsite assembly.
The 3 main types of prefab buildings are:
Modular: 3D components built almost entirely in a factory environment and delivered to the site for installation. Also known as sectional, PPVC (Prefabricated Prefinished Volumetric Construction) or unitised systems are 3-dimensional structural units which are combined at site with other units resulting in a complete building.
Panelised: 2D panel homes are partially built in a factory environment and then delivered to the site for assembly and construction. Often referred to as Precut, Flat pack or Kit homes they comprise of pre-cut, pre-sized, pre-molded or pre-shaped elements that are assembled or installed on site.
Hybrid Prefab: A combination of 2D panel and 3D modular construction. A Hybrid system is advantageous for bespoke component requirements which transported and delivered to site because of size constraints or site challenges.
2D Panel Prefab buildings can also be referred to as precut, panelised systems, flatpack homes, kit homes and non volumetric building. 3D Modular Prefab buildings can also be referred to as sectional, volumetric, DfMA (Design for Manufacture & Assembly) and PPVC (Prefabricated Prefinished Volumetric Construction)
What are Modular Prefabricated Buildings?
Modular buildings are 3D modular components built almost entirely in a building facility and delivered to the property location for final installation. Modular homes are approximately 80–95% complete when they leave the factory and are transported on flat-bed trucks over short or long distances. The modular components are built complete with attached walls, floor, ceiling, wiring, plumbing and interior fixtures and fitting and then delivered to the site and installed. The modules can be combined side-by-side or top and bottom to create larger buildings or extensions to existing properties.
Prefab volumetric modules are constructed and assembled complete with finishes for walls, floors and ceilings. The term 'volumetric' term refers the efficiencies achieved in off-site modular construction. Units are modules that can be linked together to form complete buildings without the need for additional superstructure.
Previously modular homes had greater limitations in size and width, however advances in transportation and construction technology mean that modular homes are no longer limited to smaller room sizes and single story designs. 4.5 meters is a common modular width size for standard homes to enable ease of transport, however this is flexible to achieve the project outcomes for a bespoke design. More and more prefab modular builders are finding ways to overcome dimension limitations and creating increased customisation options.
Advantages:
Faster building. Typically modular homes can be ready in a number of weeks and are installed at the location site in 1 day.
Controlled construction environments result in benefits such as having tools and materials close by, automation of tasks, twinning production (building similar structures at the same time).
The location site can be prepared at the same time that the home is being constructed off-site which speeds up the overall process.
Improved building quality and more air tight structure is achieved by building the home in a controlled construction environment.
Improved environmental impact. Modular construction vastly minimises the amount of on-site waste and land disturbance.
The precise planning and building of modular homes offers strong opportunities for significant improvements in sustainable building. But only if the building is designed with passive solar principals and utilises low embodied energy materials which results in reduced overall environmental impact. It is important to note that not all modular or panel home builders are sustainable builders. Prospective buyers should therefore find out about prefab builder's sustainability standards and credentials, as well as their building materials, construction processes and minimum energy ratings.
Find out more about how prefabricated homes work and how they stack up against traditional construction.
What are Panelized or Kit Prefabricated Modular Homes?
Prefab panelised systems are 2D flat-pack panels components manufactured in a factory and then transported and assembled on-site to make the complete three-dimensional building. The panels can be made from various materials including concrete slab panels, timber panels, hybrid-timber, recycled timber, structural insulated panels. 2D prefab panel homes can be open-panel systems or closed-panel. There isn't a strict distinction between the two. In short; open panels are non-insulated and leave a lot more construction work to be done at the site location whereas closed systems the panel walls are insulated and finished in the factory. Enhanced panels are when the panels are 'enhanced' with items such as windows, fittings or plumbing in the factory. A panel/kit home arrives at the location site unassembled. Construction of panelised homes is achieved by first laying down the floor then lowering each wall into place one at a time.
Advantages:
Flatpack panel units are very easy to transport and generally cheaper than modular homes to deliver to site. There are a variety of customisation options available for panelised homes.
Flat pack panel prefab structures have been used for very large commercial properties because the systems enable higher ceilings or very wide or long spans useful for commercial buildings and towers.
Other Off-Site And Factory Built Construction Types
Manufactured Homes – Mobile Homes A manufactured home has the character of a house but is designed to be moved from one position to another and is not permanently attached to land. The key difference between modular and manufactured homes is that manufactured housing utilize cheaper building materials and are therefore generally inferior quality than a modular home. This results in a lower energy efficient building overall which is often poorly insulated and is effected by climate conditions. They are often used for caravan sites, mobile homes, portable school classroom or mining accommodation cabins.
Tiny Houses Tiny houses can be built using traditional methods on-site, or off-site using prefab construction, or even fully manufactured as a mobile tiny home on wheels. The size of tiny houses generally ranges from 120 – 500 square feet, however there's no explicit distinction for their measurements. Some owners get their tiny homes built on wheels in an attempt to avoid the jurisdiction of municipal planning laws. One of the defining features of the tiny home movement is the ethos of downsizing and living simply. A tiny house is not necessarily a sustainably built home, however the small living space reduces energy consumption and environmental impact.
Prefab Building Industry in Australia Fast-forward to Australia in 2017 and prefabricated homes have experienced a strong growth in interest and won numerous design and building awards across Australia. Prefab homes are considered as real estate and therefore their value increases just like on site built homes. Currently Prefab building construction comprises of approximately 3% of a $150 billion industry however many industry experts are predicting this is set significantly change over the next couple of decades. Prefab single-storey, double-storey, residential and commercial and multi-high rise apartments are being built around the country. Whilst the Australian prefab housing market may be smaller than other prefab sectors around the world, the commitment to design flexibility and diversity of style is a lot stronger than compared to many other international prefab industries.
So, now you're in the know about Australian prefabricated buildings and what the main differences are – but do you know what they look like? If the word 'prefabricated' still makes you think of uncomfortable school classroom portables, mining accommodation cabins, or drab granny flats – head over to the Ecoliv Buildings website projects or press pages to get an idea of what can be achieved. Modular construction methods can create boutique prefab homes & buildings which are affordable, beautiful and a smart choice for the environment.
Ecoliv Sustainable Buildings are an Australian Prefabricated Modular home builder with a minimum 7 star energy efficiency rating. As experienced custom home builders, Ecoliv can custom design your home to suit your site and meet your specific requirements.