Award-winning sustainable prefabricated home builder launches in Byron Bay to meet local demand for environmentally friendly housing
Victorian-based builder, Ecoliv Sustainable Buildings has set up a local construction premises in Northern NSW, ready to begin work on three new prefabricated modular homes in the area.
With energy prices on the rise, it's never been more important for Australians to minimise their environmental impact. To meet the ever-increasing need for sustainable and resource-efficient living, experienced prefab modular builder, Ecoliv has opened a new construction facility in the Bryon Bay.
Since 2008, Ecoliv has been building modern, energy-efficient houses that outperform the average Australian home and help homeowners slash their power bills. Designed to take advantage of the mild, temperate Northern Rivers climate, Ecoliv modular homes are designed with solar passive principals and constructed in modules to reduce waste. Utilising renewable materials with low embodied energy, each Ecoliv architecturally designed house is built for long-term sustainability over the building's entire lifecycle.
Offering new sustainable living choices for local residents
Ecoliv now offers sustainable buildings in Byron Bay. Working with the local team from Morada Build, Ecoliv have established their new premises in the centre of Byron Bay's industrial estate. They are currently gearing up to begin construction on their first two local projects delivered to South Golden Beach, and Buderim on the Sunshine Coast.
Ash Beaumont, Director of Ecoliv, said today, "We're excited to introduce our innovative home designs to the Northern NSW and Southern QLD communities. With two projects already underway in the area, setting up a local construction facility in Byron Bay rather than delivering from Victoria, gives us the opportunity to pass on significant transport savings to new homeowners throughout the region. All prefabricated modules will be built in the local facility, before we deliver them to site, ready for connection."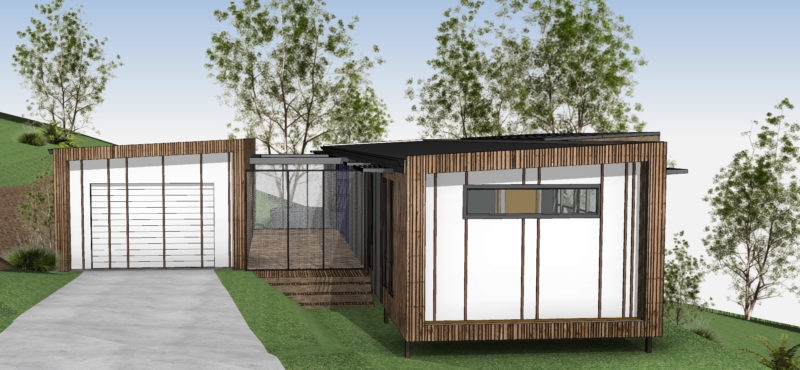 Sustainability and resource efficiency – the future of house design
Recognised by prestigious industry awards for their environmental building excellence, Ecoliv is wholly committed to reducing household energy requirements, cutting running costs and achieving long-term sustainability for Australian families. Every home they build achieves a minimum 7-star energy rating. Included is a 1.8kw solar power system and 10,000 litre water tank as standard inclusions with the ability to easily upgrade to operate completely off the grid.
With each design, Ecoliv ensures that there is a seamless connection with the organic environment while optimising the use of natural energy resources, through well-planned site orientation, passive heating and cooling, airflow control and natural light. And our sustainable buildings in Byron Bay will be no different.
"Our aim is to build homes that have both immediate and long-lasting lifestyle and health benefits for local families", says Mr Beaumont. "Meeting five key environmental goals, Ecoliv is focused on energy efficiency, water efficiency, natural and renewable materials, indoor environment quality and waste reduction via off site prefabrication."
Bringing together ground-breaking innovative technology with functionality, affordability and contemporary design, Ecoliv is creating a powerful impact in shaping the future of sustainable and affordable living within the Northern Rivers community.