Did you know that Australia has one of the highest per capita emissions of greenhouse gas in the world? Or that the construction, operation and maintenance of buildings is responsible for almost 25 percent of Australia's greenhouse gas emissions?
As our population continues to grow, and more buildings are required, adopting green building practices and choosing sustainable building materials for our homes is one way that we can significantly reduce our carbon footprint and curb negative environmental impacts – protecting and preserving our planet for future generations.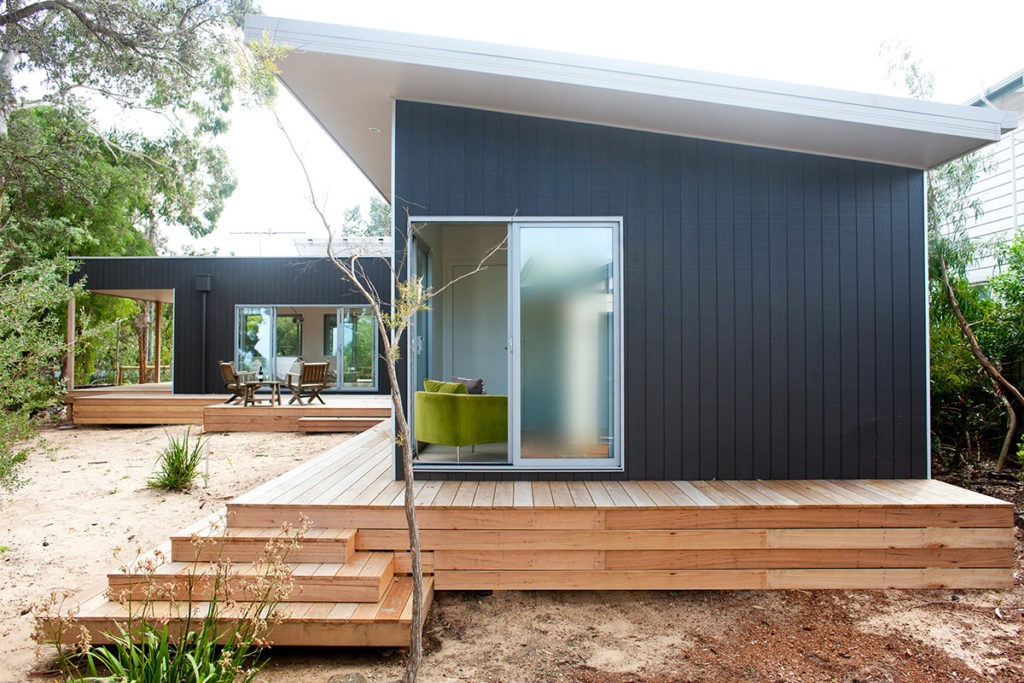 Spotted: sustainable silvertop ash decking on our award-winning Balnarring Beach eco home on the Mornington Peninsula.
So, what exactly is green building?
The process of building a home can impact the natural environment in a range of ways, from high levels of CO2 emissions when materials and equipment are transported long distances to the destruction of ecosystems in order to extract raw materials like timber or stone.
Green building takes into account environmental impacts throughout the lifecycle of a building from planning to design, construction, operation, maintenance, renovation and even demolition.
Also known as green construction or sustainable building, this eco-friendly approach to building design and construction addresses the needs of the present without compromising the future. This means considering things like:
Energy efficiency: green construction seeks to improve energy efficiency by making changes such as adopting passive solar design principles, opting for renewable energy sources by installing solar panels and storage batteries, even insulation and exterior cladding choices.
Water efficiency: from collecting rainwater in tanks to water-saving appliances and plumbing fittings, there are a whole host of steps that can be taken to improve water efficiency when building a sustainable home.
Materials: sustainable building materials paired with on-site waste reduction initiatives can significantly reduce the environmental impact of building (or renovating) a home.
Indoor environment quality: ecologically conscious building isn't just better for the planet it's better for people, too. Especially when things like window placement to improve air circulation and low VOC paints and timbers are considered.
Waste reduction: minimisation of waste is central to the green building construction process and further elevated in the modular and prefab approach. Think: reduction in wasted materials, smarter use of space, plus recycling and reuse of materials where possible. Even the prefabrication of frames and trusses reduces wastage by up to 52 per cent.
What are sustainable building materials?
Going green with eco-friendly building materials makes sense on so many levels. It's kinder to the earth, of course, and with environmentally friendly construction materials releasing little to no toxins, there's a positive impact on the inhabitants of your home and your neighbourhood, too.
More than that, truly green building materials consider the entire supply chain including the resources required, manufacturing, transportation and the ways used in the construction (and potential eventual demolition) of your home.
Put simply, a sustainable material is one that does not negatively impact our non-renewable resources, the natural environment or our health.
Choosing eco-friendly building materials
Making sure that your home consists of building materials that have the least environmental impact is an important step in creating an eco-friendly home. Careful analysis and selection of materials and the way they are combined can yield significant improvements in the comfort and cost-effectiveness of your home, and greatly reduce its life cycle environmental impact.
But the task of choosing eco-building materials can be overwhelming. The easiest way to spot sustainable solutions? Checking the environmental certifications and credentials. Look for the following:
FSC® (Forest Stewardship Council) timber: the Forest Stewardship Council is an organisation designed to protect and preserve forests and ensure the responsible sourcing of timber. Through 10 principles and criteria they ensure that forests are managed in a way that not only takes care of the animals and plants that call it home but also workers and local communities who rely on forests and indigenous groups whose heritage connects them to forest landscapes.
GECA (Good Environmental Choice Australia): GECA-certified products or services have been rigorously and independently assessed to ensure they consider the environmental impact of a product throughout its lifecycle – from where raw materials come from to how the product is eventually disposed of. They ensure that our certified products consider the effects of toxic chemicals such as volatile organic compounds (VOCs) and the social and ethical impacts of the products.
Green Tag: Based on widespread industry use of the EcoSpecifier data, the Green Tag Certification and Rating scheme is based on and is designed to simplify the process of product selection and make it easy to identify, compare and source products for their environmental credentials and sustainability.
PEFC (Program for the endorsement of forest certification): as the world's largest forest certification system, PEFC's credible standards seek to transform the way forests are managed globally and locally to ensure that all of us can enjoy the environmental, social and economic benefits that forests offer.
Green building design and construction is a rapidly evolving industry with technological developments giving rise to a plethora of new sustainable and recycled materials. As a responsible business, Ecoliv dedicates a portion of time and budget to researching ways to improve building efficiency through the lifecycle of our homes to ensure optimal operational performance.
8 sustainable building materials we love
Whilst rammed earth and straw bales are well-know sustainable building materials, there have been significant developments in the industry resulting in a wide range of eco-friendly materials and fittings choices on offer. So you won't have to compromise on your aesthetic to build your dream home in sustainable style.
In fact, decking out your home with natural materials calls nature into your home which can have a beautiful calming effect. Here are eight sustainable building materials that we love to use in our 7-star energy rated Ecoliv homes.
1. Energy efficient insulation
Insulation acts as a barrier to heat flow and is essential for keeping your home warm in winter and cool in summer. A well-insulated and well-designed home provides year-round comfort, and can cut cooling and heating bills by up to half – which, in turn, reduces the carbon footprint of the home.
Made from 80 percent recycled glass bottles and with no formaldehyde, Earthwool is one of the best eco-friendly insulation materials and we love to use it in Ecoliv homes. Earthwool is ranked best performing insulation in terms of low environmental impact and even improves the indoor air quality of buildings where it is installed.
2. Permeable wrap
Have you ever passed a residential construction site and noticed the bright blue wrap on the house before the cladding has been installed? That's a wrap that's designed to prevent the flow of moisture into the structure. But not all wraps are made equally, with some significantly better for the environment and the health of the home.
Ecoliv homes feature a Thermakraft permeable wrap that's fire retardant and draws moisture from the inside of the building out, without letting external moisture in. This helps to protect the building fabric and insulation from condensation and associated problems such as mould, timber rot, corrosion and loss of thermal resistance.
3. Sustainable timber cladding
When it comes to choosing cladding, timber is both a natural and renewable resource – so as long as it's locally and responsibly sourced, timber is an excellent choice for an eco-friendly home.
Weathertex is an Australian owned and manufactured external cladding option with a better than zero carbon footprint. It's produced from PEFC certified hardwoods and pressed with three percent natural wax to make eco-friendly timber products that are completely natural with no chemical additives. Plus it's lightweight yet strong, termite resistant, and comes with a 25-year guarantee not to rot, split or crack, and has a BAL rating of 19.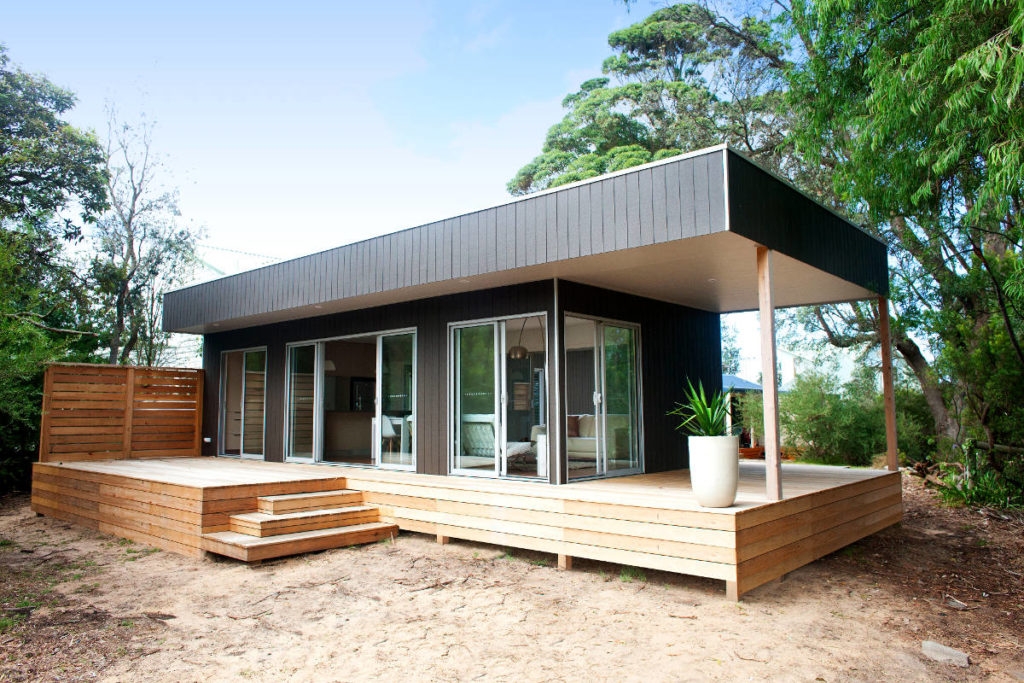 Spotted: sustainable Weathertex cladding on our award-winning Balnarring Beach eco home on the Mornington Peninsula.
4. Timber framing and trusses
It's not just timber cladding that makes a home sustainable, timber frames (instead of steel) improve the sustainability of the home, too. A natural and renewable resource, timber actually absorbs and stores carbon dioxide whilst it's growing.
Compared to production steel frames, which actually results in the generation of carbon, timber frames have a lower carbon footprint and reduced negative environmental impact. In fact, research has shown that its use can save up to 23 tonnes of carbon per home.
Ecoliv utilises timber locally sourced from Gippsland's renewable plantations which significantly reduces the environmental impacts that can arise during the construction and lifecycle of our buildings.
5. Energy efficient windows
Did you know that glazing is responsible for over 49 percent of a home's heat loss and around 87 percent of its heat gain. Choosing window options with a high WERS (Window Energy Rating Scheme) rating is a great way to use less energy in your home whilst ensuring comfort all year round.
Double-glazed AWS windows and doors are standard choices when you're building an Ecoliv home. We'll work with you to determine the best orientation of the building to maximise passive solar design and ventilation to get the maximum environmental and health benefit from your windows.
6. Low VOC paints
Volatile organic compounds are a group of carbon-based chemicals that easily evaporate at room temperature and are found in many common household products and building materials (such as paint) — meaning that toxic chemicals can be leaching into the air within your home.
When building a healthy and green home, it's important to consider the use of low VOC paints. At Ecoliv, we love the Haymes paint range as it's an Australian owned and family run business that's producing low VOC paint and is committed to minimising its carbon footprint and the adoption of best practices in environmental management.
7. Safe and sustainable timber products
Just as it's important to choose low VOC paint for the interior and exterior of your home, it's a more safe and sustainable choice to opt for low VOC timber products, too.
At Ecoliv, we minimise the use of MDF and particleboard due to their formaldehyde content, and reduce VOCs by ensuring all our manufactured timber products have a formaldehyde content of less than 1mg/litre to make our internal spaces free of airborne toxins.
8. Water-saving plumbing fittings
Combined with sensible water consumption, water-efficient appliances and plumbing fixtures, reduce the negative environmental impacts associated with wasting water and can save money in the process. Ecoliv incorporates 6 stars WELS rated plumbing fittings which control the flow of water, saving up to 14,500 litres of water in an average home each year. And, of course, we opt for appliances that have earned a maximum energy rating and WELS rating.
Building better with Ecoliv
When it comes to green building, modular and prefab construction is preferable – with modular homes designed to minimise materials wastage and maximise liveability, and the prefab construction process limiting on-site environmental impacts.
Offering a range of resource-efficient elements as standard inclusions, Ecoliv designs and builds for sustainable living. With each new building achieving a minimum 7-star energy rating and including a 1.98kw solar power system and 10,000 litre water tank to each new home*, we take every opportunity to reduce our impact on the natural environment as well as human health, and you can too with theses sustainability trends.
When you build a sustainable home with Ecoliv, you can feel confident that you're choosing the most environmentally friendly materials. As we guide you through our building process, you'll have the opportunity to peruse a range of sustainable building materials in our materials selection guide.
Don't forget that you can continue your sustainability journey after the construction of your home and even save some money with these energy-saving tips.
* Applicable for new homes on a single title only
Contact Ecoliv today to start the process of building your dream (eco-friendly) home.