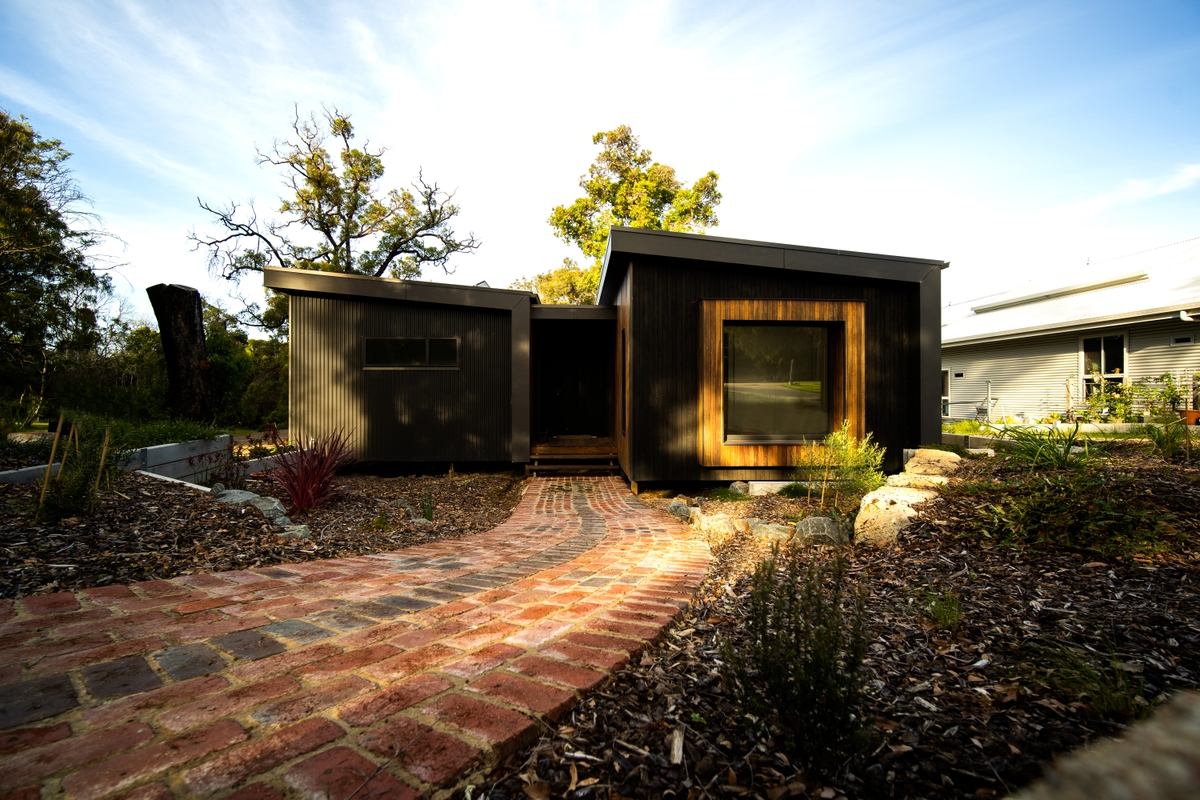 Australia is renowned for its breath taking landscapes, and many Australians harbour aspirations of crafting their dream homes in serene and natural surroundings.
However, in light of the escalating occurrence and intensity of bushfires across the nation, constructing a residence in a bushfire-prone zone necessitates heightened vigilance and special considerations.
Still recovering from the aftermath of the 2019-20 Black Summer fires, we face the possibility of another challenging bushfire season. The Australasian Fire Authorities Council (Afac) has issued a warning about an increased risk of bushfires affecting various parts of the country.  This situation is linked to several factors, including above-average temperatures, reduced rainfall, higher fuel loads, and shifting weather patterns as a result from a triple La Niña weather event.
Planning to build a sustainable prefab modular home is a considered process, which takes into account both function and aesthetics as well as the surrounding environment. One of the most important aspects to consider is how the risk of bushfire will influence the construction requirements that are necessary to keep your home and family safe.
Understanding BAL Ratings
In this context, understanding Bushfire Attack Level (BAL) ratings becomes critical. BAL ratings are an Australian government standard for gauging a home's exposure to bushfire. These ratings, aligned with the Australian Standard AS 3959:2018, dictate construction and building requirements to safeguard homes in bushfire-prone areas.
| Bushfire attack level | Radiant heat exposure | Description |
| --- | --- | --- |
| BAL LOW | 0 to 12.5 kW per sq m | This is the lowest BAL rating you can receive in a bushfire prone area which indicates that there is risk of ember attack but the possible radiant heat flux exposure will not be greater than 12.5kW per square metre. This rating means there are no special construction requirements. |
| BAL 12.5 | 0 to 12.5 kW per sq m | This is a low risk rating. It indicates possible radiant heat flux exposure at a maximum of 19kW per square metre and risk of wind-ignited embers and burning debris that could cause an ember attack. |
| BAL 19 | 12.5 to 19 kW per sq m | This is a moderate risk rating with the same potential heat flux exposure as BAL 12.5 but with a greater likelihood of exposure. Similarly, there are no special requirements for the floors and subfloor, and the same construction requirements for the rest of the house with the exception of 5mm safety glass instead of 4mm. |
| BAL 29 | 19 to 29 kW per sq m | This is a high risk rating which means the risk of ember attack is increased and the radiant heat flux exposure may be up to 29kW per square metre. There are more extensive building requirements than lower ratings. |
| BAL 40 | 29 to 40 kW per sq m | This is a very high risk rating which means that the risk of ember attack is much greater with some likelihood of direct exposure to flames and radiant heat flux exposure up to 40kW per square metre. |
| BAL FZ | 40 kW per sq m and flame contact | This is an extremely high risk rating indicating great risk of ember attack and extreme radiant heat exposure plus direct exposure to flames. The radiant heat flux exposure risk is the same as BAL 40. |
Building to BAL Ratings
The BAL rating of your building site dictates the materials and design elements that need to be considered. This includes external walls, roofing, penetrations through roofs or walls, windows, shutters, doors, decks, under floors, and sealing gaps to prevent embers from lodging in-between gaps. In some bushfire-prone areas, a rainwater tank for firefighting purposes may also be required.
External walls
External walls must be made from specific materials – namely, non-combustible material or bushfire resistant timber with a BAL rating of 19 and upwards. For our Callala Beach Project which is in a BAL-FZ zone (the highest possible rating), the exterior walls utilise James Hardie Axon 133mm smooth fibre cement cladding for its fire resistance and longevity.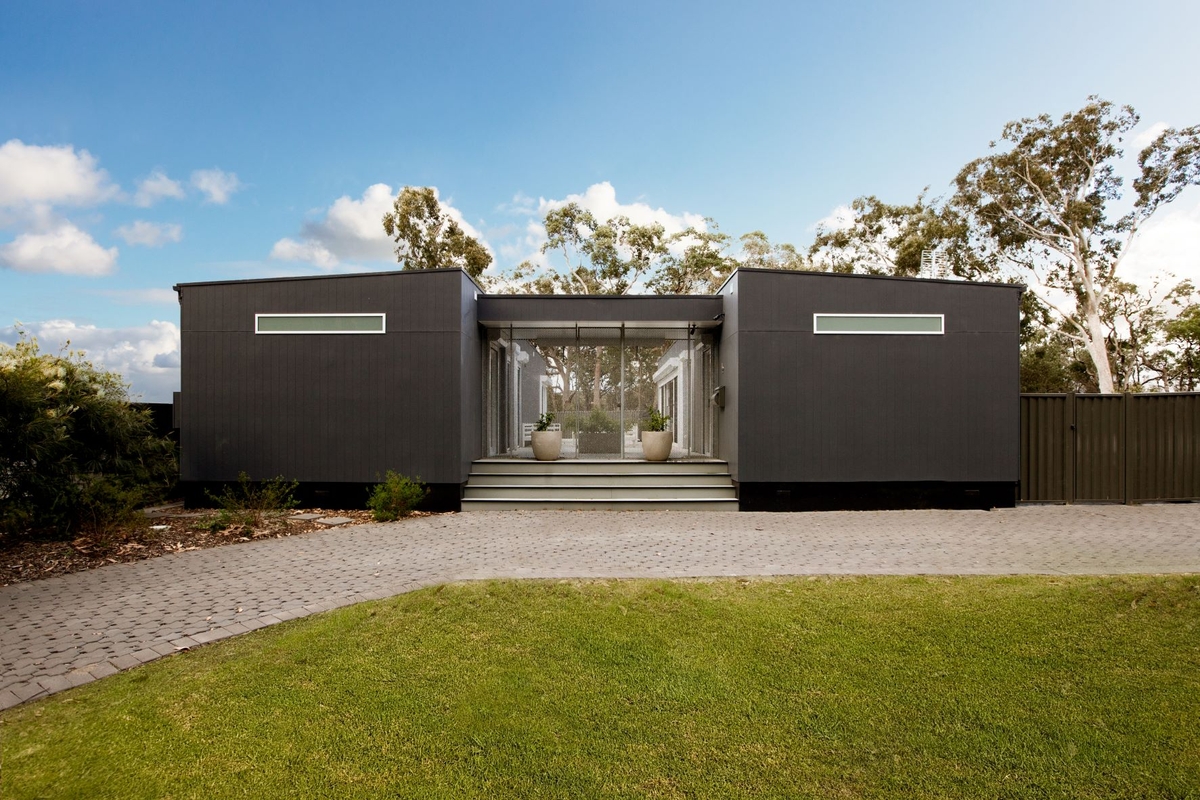 Roofing
In the case of a BAL 40 rating, roofing materials need to be made of non-combustible materials such as steel. Where the BAL rating is 12.5 and up, roofs need to be fully sarked and the junction between the roof and walls must be completely sealed.
Penetrations through roofs or walls
When you have a higher BAL rating, you'll need to take into account any openings that come through walls or the roof. This includes things like vents, extractor fans, and downpipes – all of which should be made from metal, rather than PVC to ensure they are more heat resistant.
Windows, shutters, and doors
All glazing including windows and doors, can break during a bushfire from flying debris and heat. Thicker, toughened glass should be used along with frames made from materials that match the criteria of the BAL rating.
AWS has developed and tested a range of aluminium windows and doors certified to meet the requirements for a BAL-40 zone. Their aluminium windows and doors are engineered and tested to withstand the conditions likely to occur in a BAL-40 zone and are designed to help protect your home whilst still delivering unprecedented style, efficiency and functionality.
Building with tested, thermally broken frames and 6mm toughened glass would ensure: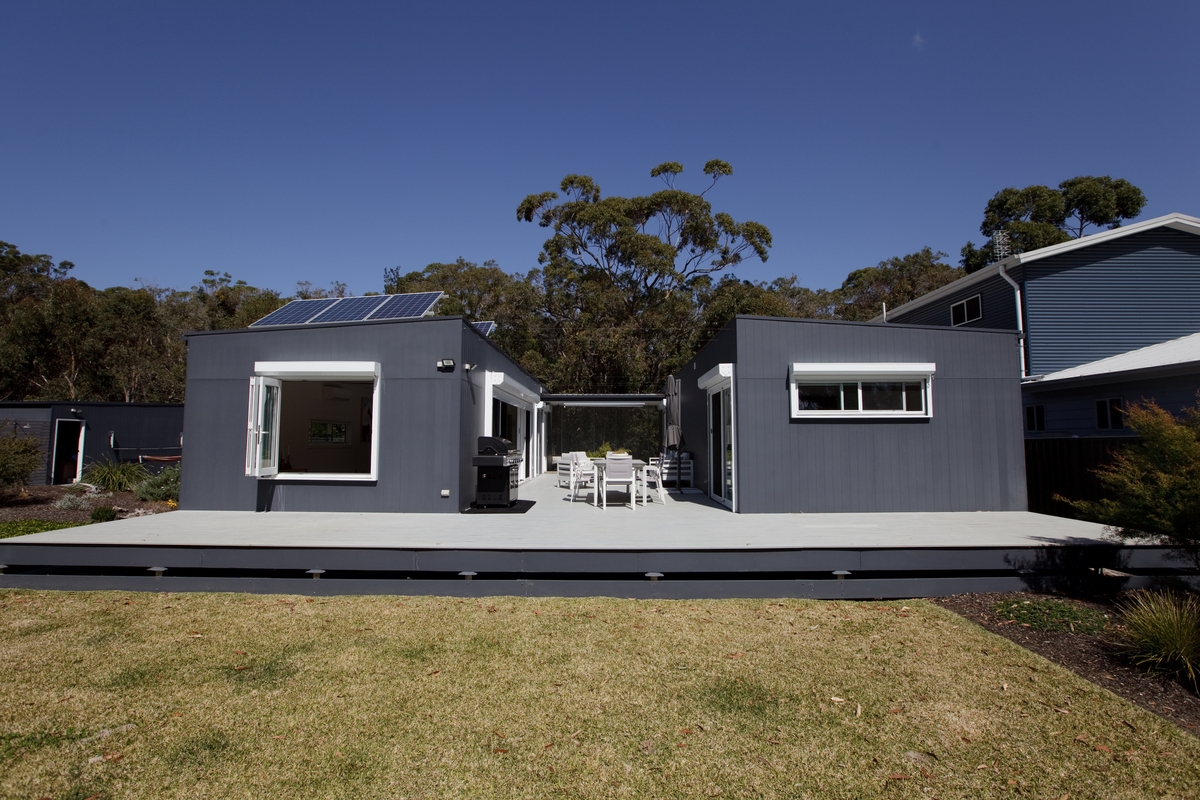 Decks and under floors
Floors should be built low to the ground with a subfloor structure that is made from non-combustible materials.
Decks should be made with non-combustible materials or bushfire-resistant timber, depending on the BAL rating.
Decks are built as standalone structures and not directly connected to the house – this ensures that in the case of them igniting that they can detach from the house as they burn rather than spreading fire into the main structure of the home.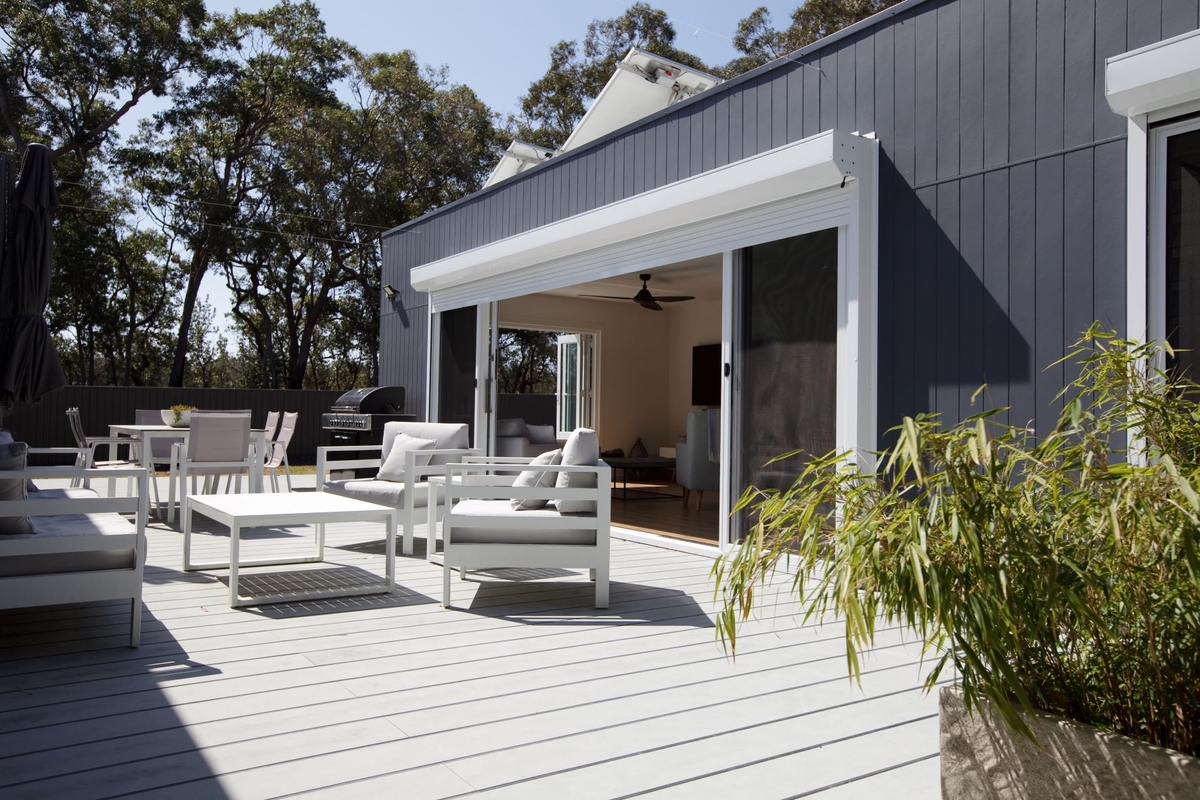 Sealing gaps
All gaps between cladding and eaves, as well as doors and windows should be sealed to prevent embers from lodging in-between gaps and igniting the fire. Sealing off these gaps also helps to create a more energy efficient home by preventing uncontrolled ventilation.
Rainwater tank for firefighting
In many bushfire-prone areas, the relevant fire authority may require a water tank to be installed on site specifically for firefighters to defend homes when required. Firefighting water tanks must be above ground, made from non-combustible materials and include a pump system suitable for firefighting purposes.
It is essential to get a BAL assessment for your building site by a qualified consultant only if you are in a bushfire prone area. They will assess the site and provide instructions for designing and constructing your home in accordance with AS 3959:2018.
Building a Home with Ecoliv
Ecoliv is dedicated to helping you build safe and sustainable homes in bushfire-prone areas. Our designers ensure that your home is designed and constructed to the relevant BAL rating requirements. In the face of changing climate conditions and increased bushfire risk safety remains paramount, and understanding BAL ratings is a crucial step in safeguarding your family and home.
Your dream of an eco-friendly home is achievable, even in bushfire-prone regions. To learn more about our building process and design features, explore our featured projects or discover our custom-designed homes.