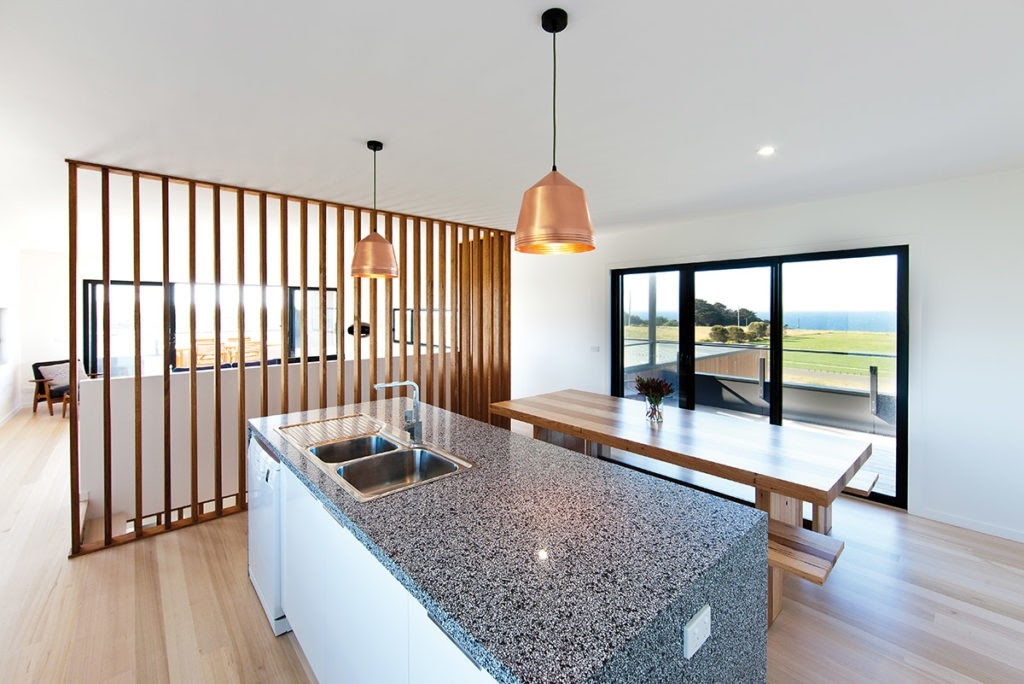 - Location and Vision -
This modular home resides in the small fishing settlement of San Remo, southeast of Melbourne, intended to be a holiday refuge for a busy professional family. The places we choose to "get away" to are no less important than the business we need a break from. Originally occupied by the Bunurong people, the town San Remo was romantically named after the Italian Riviera Resort town and historically hosted the largest shark fishing fleet in the country. Residents and visitors of the town enjoy watching the pelicans feed at the foreshore, walking the George Bass coastal walk along deserted bays and beaches, and enjoying fresh seafood from the morning market or the gourmet eateries.
Residents of the San Remo House can gaze out over the sometimes quiet, sometimes moody, unpredictable seas and take solace in the fact that our own internal landscape isn't all that different.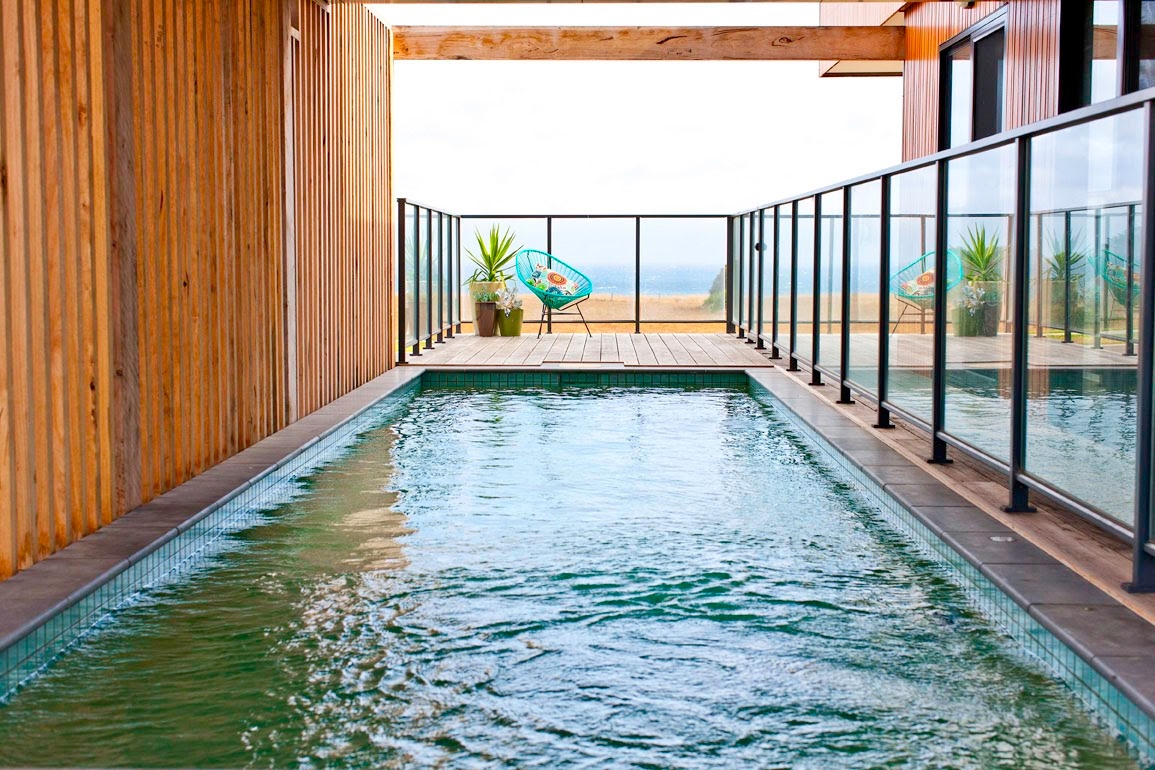 Design and Specifications 
In true Ecoliv fashion, the San Remo project was built with a sustainable building philosophy that incorporates construction methods and materials with a minimum 7-star energy rating. The robust palette of the home was intended to make a bold yet restrained statement. The two-storey, resort-like dwelling has four spacious bedrooms, open-plan living and dining, and a deck where residents can gaze upon the ocean from the safe comfort of their own pool.
A fine balance is struck between the airy, seaside interior that captures gentle nature light and the earthy, warm exterior enhanced by the Alutile and Silvertop Ash cladding. The harmony of the interior and exterior finishes earned this project the HIA 2013 Awards Victoria for Best Residential Building Design.
Sustainability
The San Remo project was designed in accordance with the Ecoliv ethos and construction principles that allow the home to minimise waste, site-disturbance and overall energy used in the manufacturing process. The project was custom built off-site and delivered ready to connect to services, or exist as a self-sufficient structure. The minimalist contemporary aesthetics serves the practical needs of the inhabitants while creating an experience of understated luxury and simplicity.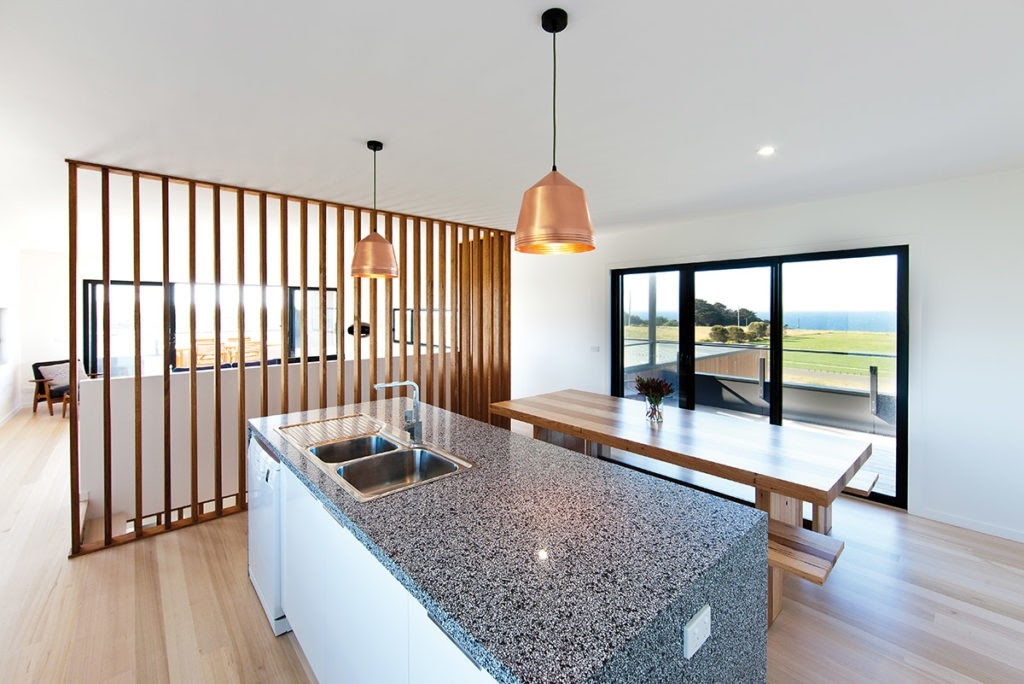 The thoughtfulness of design extends to the materials used in;
Construction
Sustainably sourced plantation timber
Double glazed windows
Earthwool insulation
Fittings & Fixtures
100% wool carpets
Reconstituted stone benchtops
WELS rated plumbing
Star rated appliances
LED lighting
Systems Integration
Solar power
Solar Hot Water
10,000 litre water tank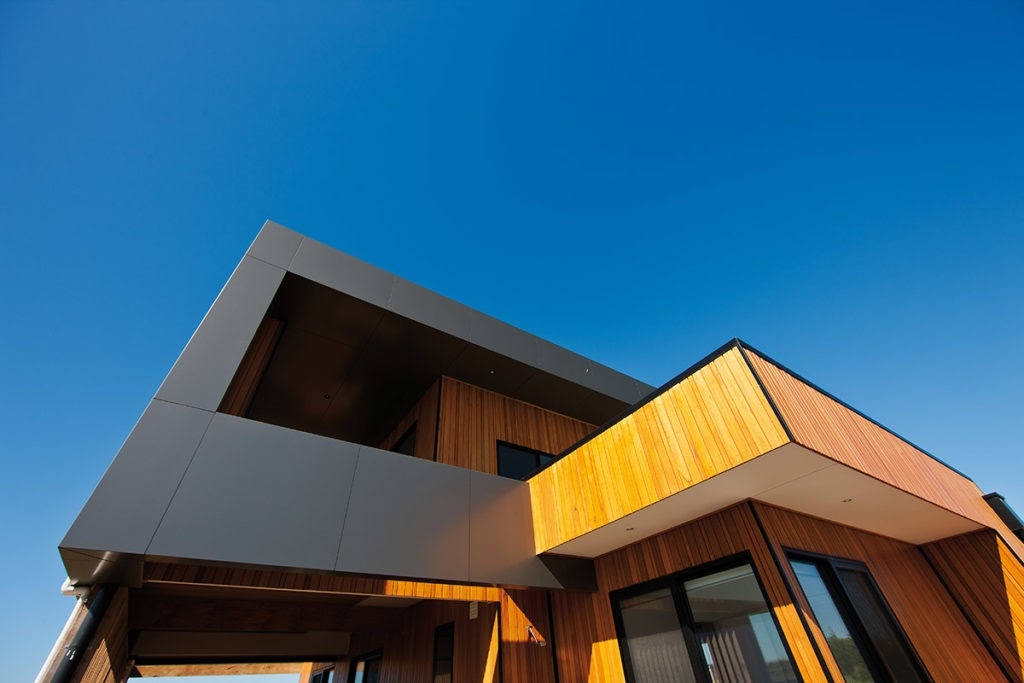 The San Remo project is a holiday home that is thoughtful in both design and construction, incorporating sustainable building practices with aesthetics that complement the surrounding environment. The house is a bold and graceful example of the Ecoliv passive solar design principles, allowing residents to enjoy a low-impact, sustainable lifestyle without sacrificing comfort and elegance.
For more inspiration, click here to view other dream homes we have brought to life.