-Location and Vision-
The Kilcunda Project is located on the rugged southern Victorian coastline. The seaside village is characterised by its beaches and sand dunes offering scenic views back along the river and ocean. Kilcunda's endearing features include the walking and cycling tracks over the trestle bridge with spectacular views of the surf beach and hilly inland grazing.
The minimalist barn-like exterior is robust and striking against the minimally vegetated landscape while interior spaces imbue a warm light-filled radiance reflective of the home's beachside location.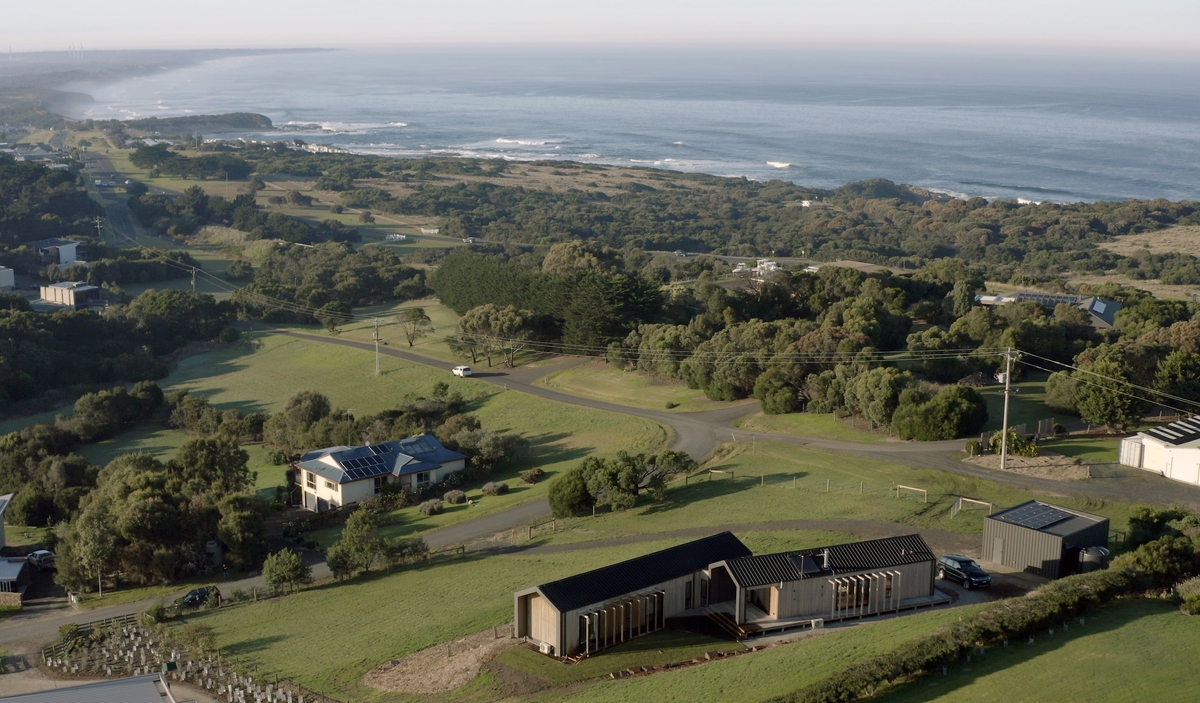 Photo: Seagrass Films
Design and Specifications
The Kilcunda project was designed to maximise northern orientation whilst showcasing views of the ocean to the south. Prevailing winds and the need for protected outdoor entertaining areas dictated that two linear modules were positioned in a dual level angled floor-plan with a connecting link between living and sleeping zones.
The sloping site dictated the floor plan design and placement of modules balanced the need to maximise northern orientation and benefits of passive solar principles whilst showcasing views of the ocean into the distance.
Pivotal to Ecoliv's resource-efficient and sustainable ethos is our commitment to passive solar design. Climate responsive, our quality homes are designed for comfort, taking advantage of natural light while collecting, storing and distributing solar energy to ensure your abode is maintained at a pleasant temperature all year round.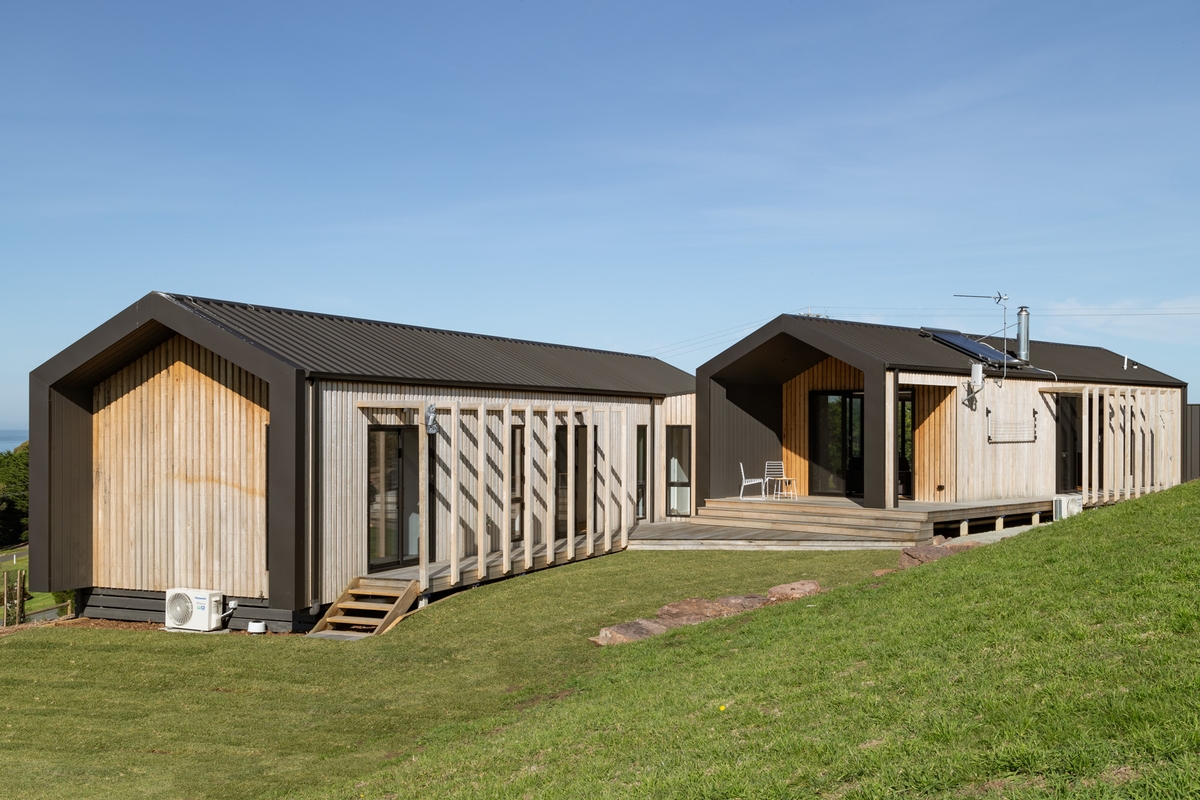 Photo: Seagrass Films
Sustainability
The Kilcunda project was designed in accordance with the Ecoliv ethos and construction principles which include minimising waste, site-disturbance and overall energy used in the manufacturing process.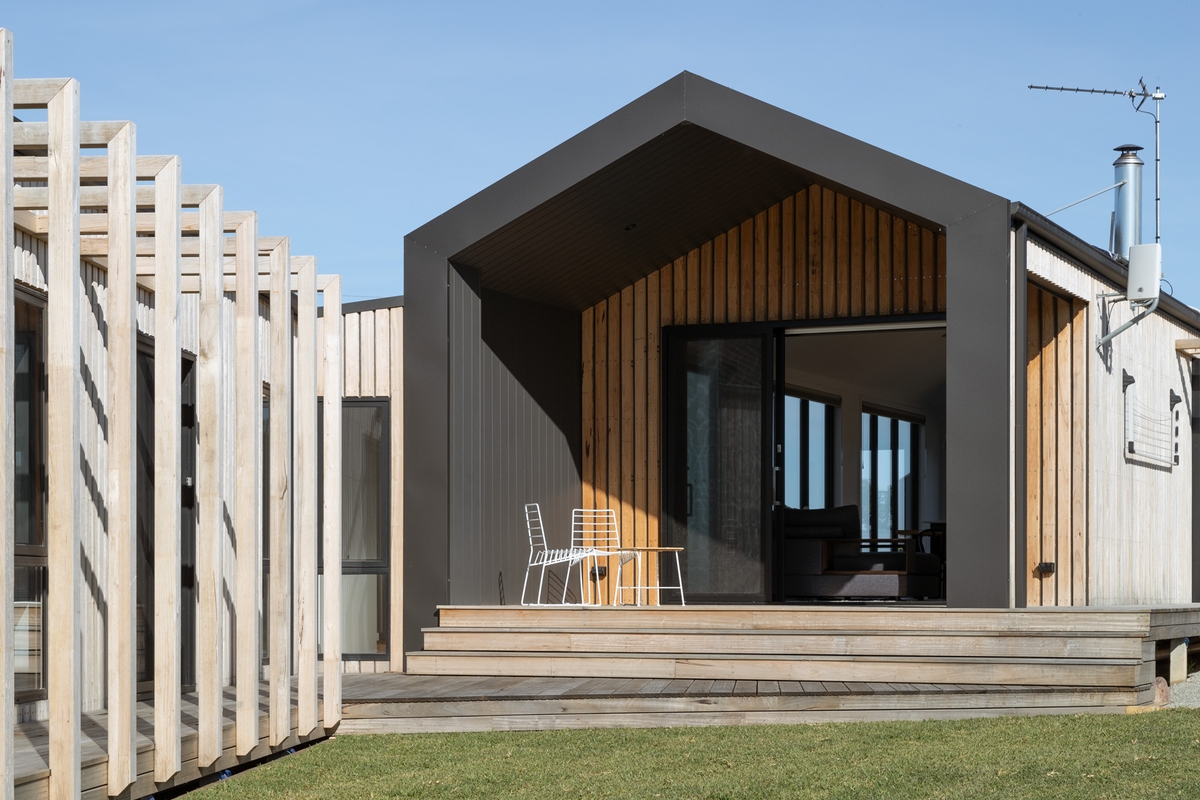 Photo: Seagrass Films
Construction
Windows were strategically placed within the home to take advantage of the views and enhance crossway ventilation and as with all Ecoliv projects, the Kilcunda Project has double glazed, energy efficient windows throughout.
Ecoliv achieves a  WERS rating (Window Energy Rating System) of 5 Stars. Our windows and sliding doors are designed to achieve the best possible energy rating and thermal comfort year around.
During construction, Ecoliv sealed the home to alleviate any drafts.
Sealing the home from drafts and air leakage is one of the simplest ways to keep indoor climate just right. This has a big impact on the running cost of the home, it can reduce bills by up to 25%.
Ecoliv ensures each building we construct is sealed correctly, giving better functionality and helping to control unnecessary costs.
The Kilcunda Project was constructed with sustainably sourced plantation timber.
Timber Framing and Truss specifications utilise plantation timber sourced from sustainable origins. Natural and renewable, timber is the optimal framing and truss choice, with research showing that its use can save up to 23 tonnes of carbon per home.
Systems Integration
Installed a 1.8kw solar power system to the Kilcunda Project, substantially reducing the power bill.
Providing the home with up to 90 percent of its hot water needs, a solar hot water system can save up to $500 to $700 on electricity bills each year.
Ecoliv includes an energy efficient hot water service as standard with new builds. With up to 60 per cent of an average hot water bill attributed to heat loss from pipes, we make sure that all rooms using hot water are grouped together, thus taking advantage of shorter pipes and minimising heat loss.
We installed a 10,000 litre water tank to the Kilcunda Project that is plumbed to toilets and the washing machine. With the average Australian family using around 1,300 litres of water in the home each day, water conservation is key to maintaining a resource-efficient, sustainable and cost-saving abode.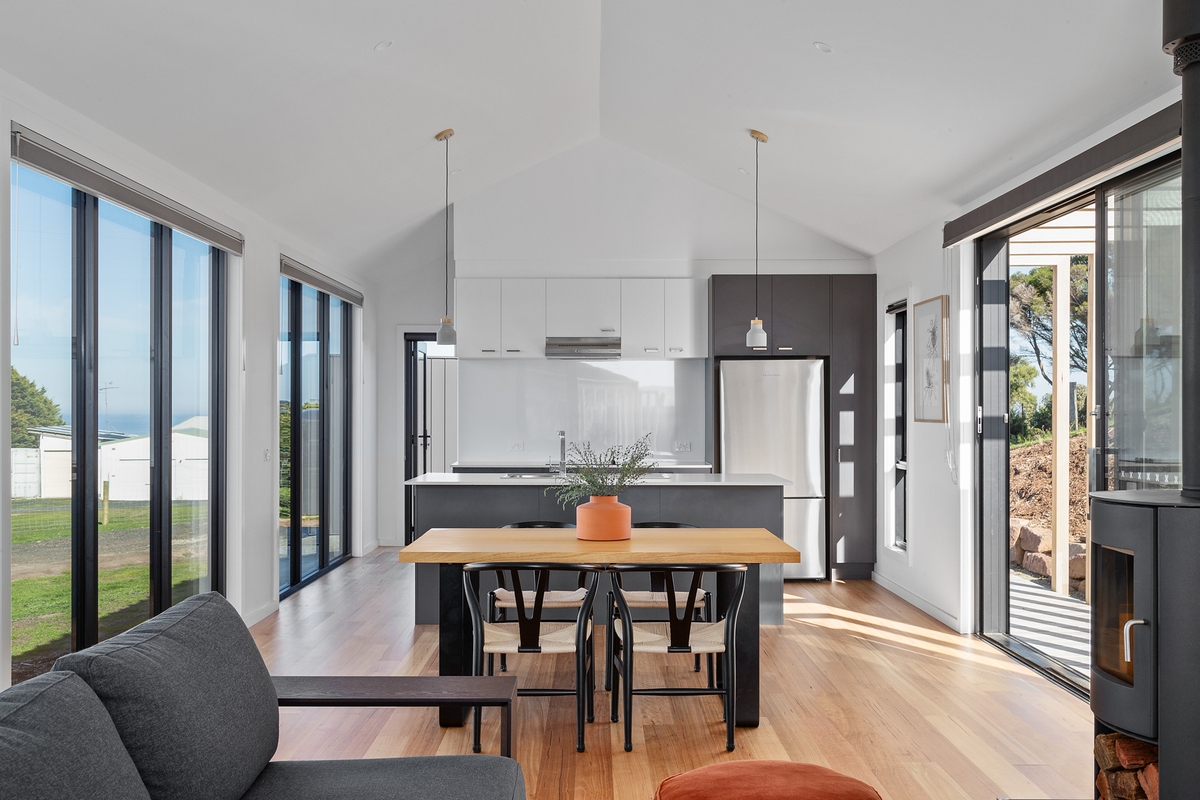 Photo: Seagrass Films
The Kilcunda Project is a striking sustainably built home on the south coast of Victoria, with barn-like features encompassing the coastal vibes.
This home has been designed and built with every aspect in mind to create an efficient and luxurious home. Built for entertaining friends while taking in stunning coastal views.
Click here to see more of our sustainable modular homes.