Modular homes offer many benefits over the typical home building process, two of those being upfront certainty in the budget and construction timelines; however, securing finance for your modular home can uncover a few additional challenges with the banks. With rising house prices and intense housing market fluctuations, choosing prefab homes in Australia is becoming the consumer go-to when choosing to build on land, and we've got the tips on how to be approved for your modular home loan with Australian banks based on our experience with previous clients.
At Ecoliv Sustainable Buildings, we understand that two of the most stressful parts of any building process are delays in construction and unexpected costs. Our sustainable modular homes are quick, cost-effective and innovative. Ecoliv prefab homes in Australia are built in a controlled factory environment which means you are not at the mercy of the weather and trying to juggle conflicting trade schedules, or dealing with unforeseen costs.
Ecoliv's architecturally designed modular homes have been praised for their eco-friendly credentials and 7-star plus ratings. Currently, modular construction and prefabrication represents around three per cent of Australia's construction industry, although that is predicted to rise to nearly ten per cent within five years. Despite this growth, the finance sector is still lagging behind the rest of the industry and this is causing some difficulties for people interested in purchasing modular homes. Luckily, Ecoliv have extensive knowledge in the full buying and building process of prefab homes in Australia, so we're here to help!
Simply put, although the construction process of modular homes provides you with certainty around budget and timelines, it doesn't fit the standard loan categories of most banks. Most mainstream lenders have yet to develop a loan specifically for this type of construction, which has made it difficult to be approved for a modular home loan in the past. Normally, a typical bank loan for a new house takes one of two approaches:
Construction Loan A typical construction loan is where the bank releases payments in increments, after the builder has completed key stages on the house.
Owner Builder Loan A usual Owner Builder loan is where you fund the initial or subsequent stages of the build and the bank reimburses you when the stage is completed. All of this is based on a house being built on site, which provides some protection for the bank, as they have security on the building.
Traditionally, banks have had strict guidelines that only allow funds to be released at certain stages in the construction. For modular homes, this translated as only releasing funds after it had been built and fixed on your site. Most lenders wouldn't offer loans for a property that wasn't permanently fixed to the site, and some lenders still have issues around the legal definition of the term 'permanently fixed'. For the potential modular home buyer, it's been a Catch-22 situation where you couldn't start building your modular home without finance, and the bank wouldn't release the funds until the house was built! Fortunately, things are slowly changing and there are a few steps that could make your finance journey easier.
Learn more on the blog: What Exactly is A Prefab Modular Home And Why You Need One?
Step 1: Talk to your bank early about building modular homes
It is a very good idea to talk to your bank before you get too far down the road with your Ecoliv modular home. There are still a lot of misconceptions about modular homes and it's important to make clear that your new prefab home is not a mobile home, but a permanent structure built off-site which can be removed at any time.
Banks are often not familiar with the process around a modular build and this has only recently started growing in popularity as a type of loan request. As most banks assess loan applications on a case by case basis, it's important that your bank understands exactly what the building process will be to give you the best chance for finance.
On top of communicating the process clearly with your bank, equity is a very useful tool to smooth the way for your modular home loan. This could mean equity in another property. For instance, if you plan to build a modular holiday house, you could borrow against your existing home or if the proposed site for your modular home is land that you already own outright, most banks would lend up to eighty per cent of the value of the land. If neither of these apply to your situation and you're a first home buyer looking to build a modular home as a cost-effective option, you could look into having a family member be the guarantor for your loan. Alternatively, if you have saved enough to personally fund the initial stages, you could talk to the bank about an Owner Builder loan structure.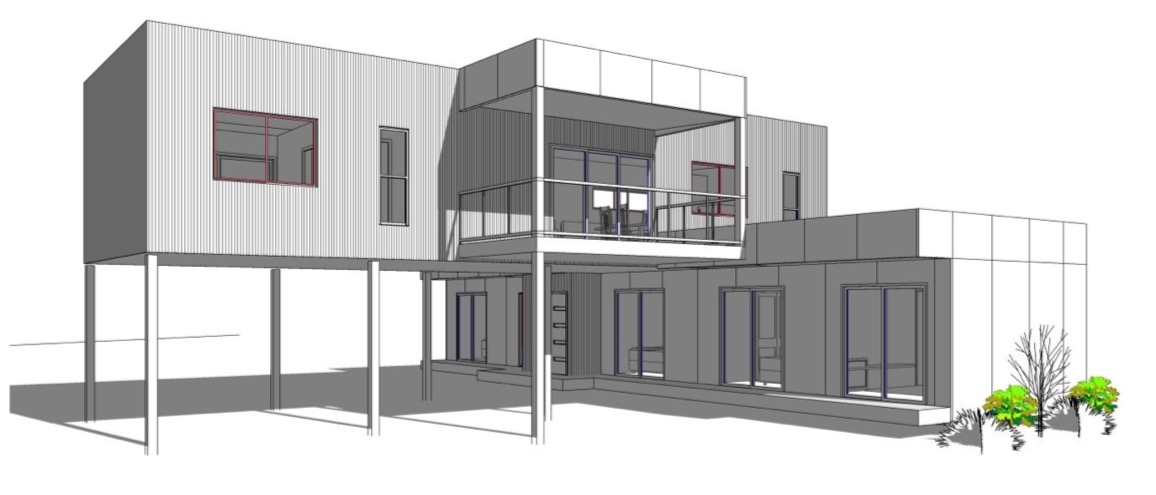 Step 2: Use a Modular Homes Registered Builder
Using a registered builder for your prefab home in Australia is usually one of the first loan requirements and banks always want to see a proven track record from your builder. Happily, Ecoliv are able to provide all of this! Ecoliv Sustainable Buildings is a registered builder with over ten years industry experience and award-winning modular home designs. We also provide the industry-standard seven year builder's warranty, providing both you and the bank with peace of mind.
Over the years, Ecoliv has worked with many clients to provide the assurances and documentation they needed in order to secure a modular home loan, so be sure to involve us right from the start to begin a stress-free build process. Good communication with your builder is vital in all aspects of the building process, including financing your modular home loan. We have the knowledge and experience from past clients who financed their modular homes and can provide a hybrid approach or payment schedule to work in with the requirements of your bank.

Step 3: Shop Around for a Modular Home Loan
When it comes to home loans, it's also a good idea to shop around. The housing industry is a competitive market so a different bank may be able to offer you a better arrangement. Some lenders will release funds prior to a modular home being positioned on site whilst some are open to working with the builder on progress payments and flexible finance terms. As modular homes are a growing industry, many finance brokers are already working in this area and may have spoken to different banks to find a suitable way to organise such a loan. Whichever bank you decide on, make sure you obtain pre-approval on your loan and the modular build process before you commit to the building process.
With the expected rapid growth in the modular homes market, banks will be developing loan products specifically for off-site constructions in the very near future. At the time of writing in April 2018, we've been assured that at least one of Australia's Big Four major banks is already very close to introducing a modular home loan. In the meantime, working with your bank to come to an agreement based on their existing loan structures can be relatively simple when you include Ecoliv in the process from the beginning.
Considering a modular home? Start the discussion with us today. No matter what stage of the process you're at, we can help. Click Here to get in touch.