Our homes are a haven where we work, rest and play. We spend such a large proportion of our day at home so it's understandable that we'd want every member of our household to be happy, comfortable, safe and remain healthy in that environment.
But whether our home is truly 'healthy' can be tricky to determine. Like most things in life worth having, the overall healthiness of your home takes careful planning and ongoing effort to keep up to scratch. The good news is that great design and various little tricks can do most of the legwork in creating clean and healthy homes.
What are healthy homes?
Before we dig in, let's define what a 'healthy home' is. According to the National Centre for Healthy Housing (NCHH), a healthy home is 'housing that is designed, constructed, maintained and rehabilitated in a manner that is conducive to good occupant health.'
The Healthy Housing Centre of Research Excellence (CRE) says unhealthy housing i.e. housing that is damp, cold and mouldy generates a sizable health burden. They estimate the health cost due to cardiovascular and respiratory disease attributable to mouldy or damp housing is "about three times the cost attributable to sugary drinks in Australia."
The housing actions the Healthy Housing CRE says will improve house health include:
Minimum rental housing standards that protect occupants' health. Targeting structural factors related to dampness and mould, ventilation, heating and cooling, injury hazards, maintenance and repair.
Good-quality public housing that is easy to access.
Help with fixing problems, such as mould removal and servicing of heaters, for people in poor-quality housing.
Insulation to maintain indoor temperature and increase energy efficiency.
Now that we've nailed what makes for a healthy home, we'll check out the key reasons to work towards and strive for a healthy home of our very own.
Why should I care if my home is healthy?
If you don't adapt healthy home principles to your home, yourself and vulnerable members of your household (like children, pets and the elderly) could find themselves suffering from a range of health conditions due to hazardous air pollutants, ranging from mild discomfort to chronic illness. This is definitely a case of a healthy home healthy family.
As the air quality of your home is unable to be seen by the naked eye, we're going to focus on different design principles you can enlist when building or renovating a home to ensure your home minimises nasty airborne pollutants, as well as some maintenance tips to ensure your indoor air remains healthy for years to come.
Common sources of indoor air pollution and associated health problems
| | | |
| --- | --- | --- |
| Pollutant | Major source(s) | Health effects |
| Nitrogen dioxide | Gas combustion | Chronic respiratory disease |
| Carbon monoxide | Kerosene, gas and solid fuel combustion, cars idling in enclosed garage, cigarette smoke | Aggravation of cardiovascular disease, poor foetal development |
| Formaldehyde | Pressed wood products, consumer products, hobby, crafts | Eye, nose and throat irritation |
| Volatile organic compounds (VOCs) | New building products, cleaning products, office equipment, consumer products | Eye, nose and throat irritation, headache, lethargy |
| House dust mite allergens | Dust mites in bedding, carpets, furniture | Aggravation of asthma, nasal inflammation, eczema |
| Mould spores | Bathrooms, damp rooms, window sills, indoor plants, poorly ventilated areas | Aggravation of asthma, nasal irritation and inflammation |
| Lead in indoor dust | Pre-1970s paint, hobbies and renovations | Poor childhood intellectual development |
| Pet dander | Cats and dogs | Aggravation of asthma and hay fever |
Source: yourhome.gov.au
Wondering how to create a healthy home? Next up we'll take you through the most important considerations when it comes to design and material selection.
Design choices for better air quality
Ventilation
When it comes to healthy house design for a new home or addition there are a few things to consider to ensure your home has adequate ventilation. Proper ventilation is critical to circulating the fresh air inside and allowing stale air and pollutants to leave your home.
Your home designer will assist you in choosing the best orientation for your new home to take advantage of wind patterns, breezes and weather to maximise cross ventilation opportunities.
At Ecoliv, our team of sustainable building experts will also be able to advise you about strategic window and vent positioning in your design to allow for passive and active internal air circulation all in the name of promoting cross-ventilation to significantly boost your air quality inside.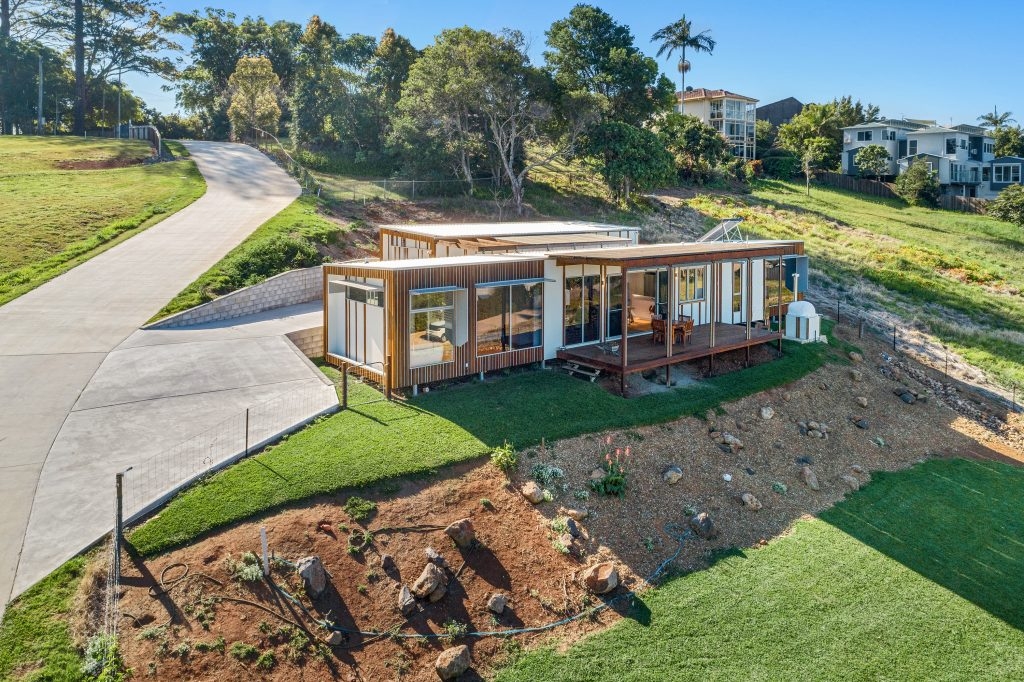 Ecoliv Buderim project – an Ecoliv modular home encompassing passive solar and ventilation design principles affording its occupants a low-impact, sustainable lifestyle.
Materials and finishes
Undoubtedly, selecting your materials and finishes to complete your home is one of the most exciting stages of the design process. Air quality is too important to be forgotten at this stage, otherwise, the health of your home's occupants may be affected down the line.
Unfortunately, many building materials contain toxic volatile organic compounds (VOCs), which are common in products such as paint, varnishes and adhesives. VOCs are defined as chemicals containing carbon that commonly emit an odour and evaporate into the atmosphere at room temperature having a negative impact on air quality. VOCs can lead to eye, nose, throat irritation, headaches and lethargy.
We'd recommend limiting the use of building products that contain VOCs, by investing in no or low VOC options, for your build to minimise VOC exposure after you move in.
Opt for low VOC internal and external paints and sealants, low VOC insulation, low VOC carpet adhesive and underlay, select carpet made from organic materials (like wool) when possible and look for building products that are pre-dried at the factory. If in doubt, seek advice from the manufacturer and ask for the product's material safety data sheet to check for hazardous pollutants.You want to avoid excessive use of certain timber products like plywood, MDF and particleboard that typically have high amounts of formaldehyde. Ecoliv, for example, minimises VOCs in their prefab builds with the requirement that all manufactured timber has a formaldehyde content of less than 1mg/litre. This ensures a minimal impact of VOCs on internal air quality.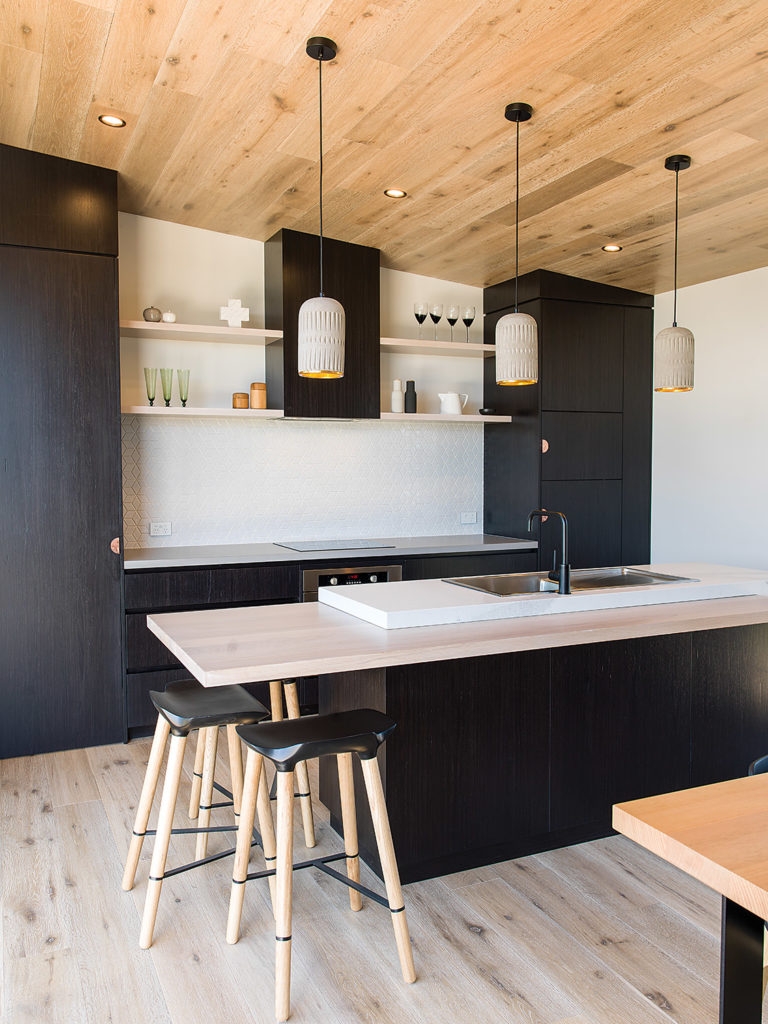 Eco Grid – a modular kitchen featuring edgy matte black low VOC MDF cabinetry.
Low VOC building products we recommend:
Low VOC Tasmanian Oak engineered timber flooring
Australian made Haymes low VOC paint for all internal and external surfaces
GECA certified adhesives, fillers and sealants
Natural carpet options
E0 low-formaldehyde MDF for kitchen and bathroom cabinets
Bonus tips to keep a healthy home
After you've moved in there are many simple ways you can improve the air quality in your home including:
Get into good cleaning habits. The optimal functioning of your vents, fans and exhausts are crucial for maintaining good air quality in your home. Don't forget to clean your rangehood, bathroom exhaust fan and heating/cooling vents regularly.
Cleaning product selection. Recent Australian research into pandemic products and volatile chemical emissions suggests we need to find unscented cleaning and disinfecting products, as scented products frequently contain toxic VOCs with adverse health effects. So, break out the bicarb and vinegar to get your clean on or seek out natural cleaning alternatives instead.
Introduce air-purifying house plants. A study by the University of Technology Sydney found that the potted-plant microcosm substantially reduces indoor air VOC pollution. Some of the best toxin removing plants according to NASA's Clean Air Study are devil's ivy, peace lily, philodendron, spider plant, rubber plant, Boston ferns, areca palms, snake plants and aloe vera.
Purchase second-hand or vintage furniture. This way you'll avoid the toxins and VOCs commonly emitted during the off-gassing period from the foam, glues, adhesives, plywood, fabrics, and product coatings in brand new items.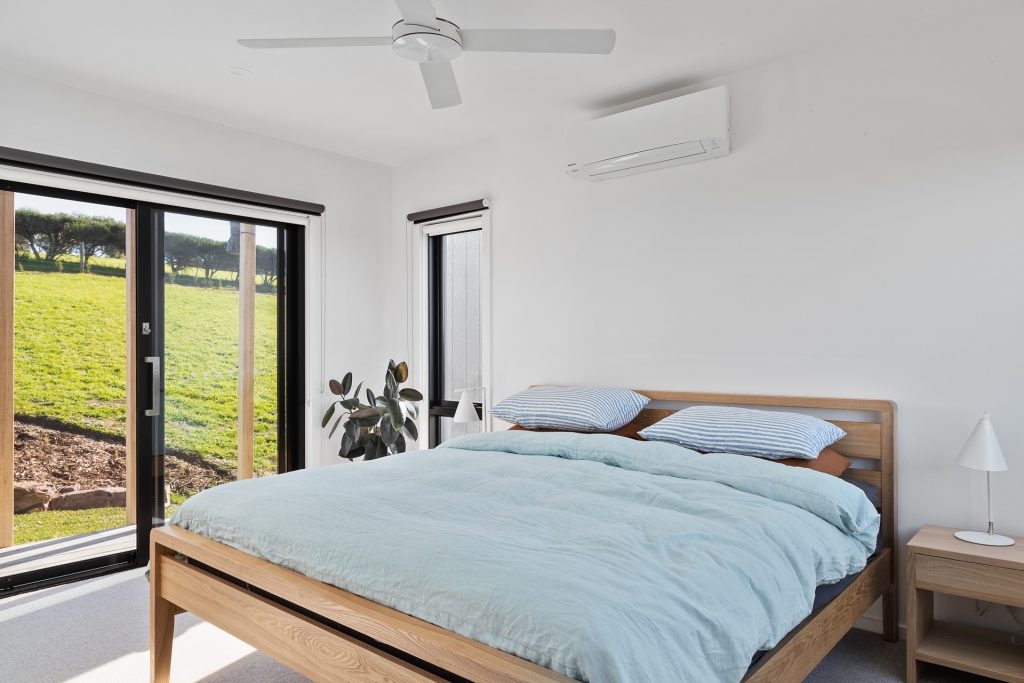 Ecoliv Kilcunda project – a rubber plant paced in full sun and with adequate water will remove carbon dioxide and release equal amounts of oxygen into your bedroom environment.
We hope you have a better understanding of the different factors that can be detrimental to the health of your home and its residents, and perhaps more importantly, the different ways you can combat certain airborne pollutants and improve air quality using design-savvy and maintenance hacks.
All Ecoliv's prefab modular homes have been thoughtfully planned and designed to give you the healthiest and best indoor environment quality in your new home possible, including low VOC products to give you extra peace of mind for you and your family.If you have any questions about Ecoliv's low VOC modular homes or want to start designing your dream healthy home, feel free to get in touch.