Thinking about going off-grid? If you're one of the many office workers celebrating (or commiserating) a year of working from home in March, you might be thinking about ways to get out of the city and find more space. And what better way to find more space, and the serenity that comes with it, than going off the grid? Or maybe you're looking for a more sustainable and slow way of living, or simply want to save on expensive utility bills.
But before you unplug and head for the bush, there are a few things to consider ahead of making your first foray into off-grid living. In this blog, we explore what it means to live off the grid including pros and cons, upfront costs and on-going benefits. Plus we delve into how one couple is living in spectacular sustainable style in their off-grid Snowy Mountains modular home.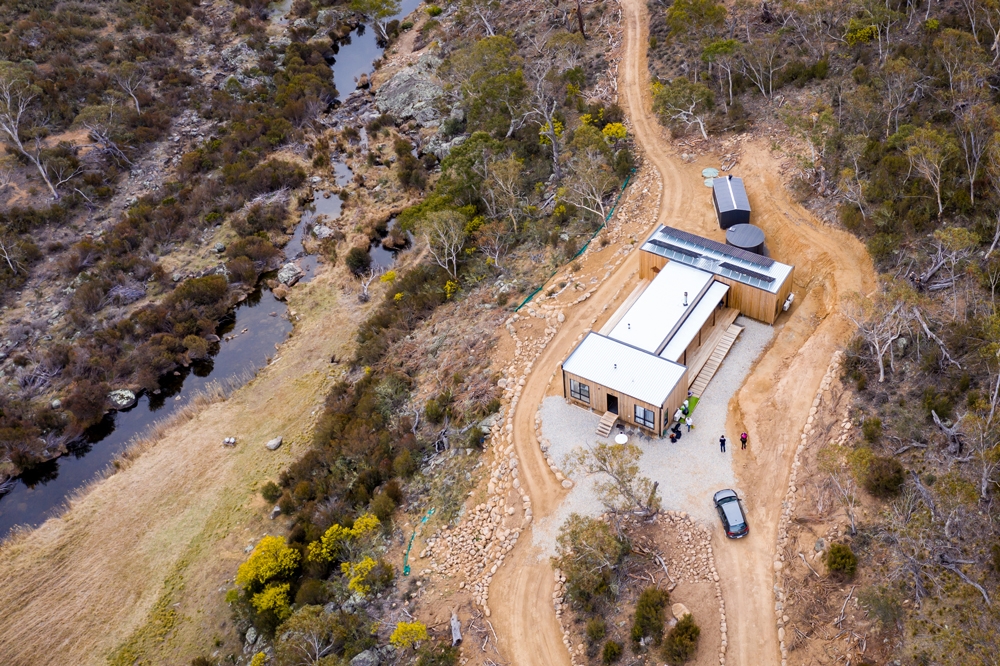 Ecoliv Jindabyne project - the design settles into the contours of the land.
What does it mean to go off the grid?
Whilst going off the grid is synonymous with disconnecting from the power grid and opting for alternative sources of energy — such as solar power – there's a lot more to off-grid houses than simply unplugging.
Going off-grid means disconnecting from all mains services and being completely self-sufficient. Off grid life means saying 'goodbye' to town water, sewage, electricity and gas and switching over to water tanks, septic tanks, and a renewable energy source to power the home. Though some homeowners choose to live partially off the grid by supplying their own electricity and remaining connected to mains water and sewage.
How to go off-grid: Considerations for solar power generation, battery storage and water access
Off-grid homes are often ideal for rural locations where access to mains electricity, gas, water and sewage is either unavailable or unreliable. However, homeowners based in more urbanised areas may choose to live off the grid (or partially off the grid) for energy efficient, economic and environmental reasons.
So, what needs to be considered when bidding farewell to your connection to the grid? Here are the key things you need to consider to go off grid.
Off grid solar power system
When the time comes to disconnect from mains power supply (also referred to as the electrical power grid), you'll need to buy a specially designed off-grid electricity system that generates energy from the sun. In order to have sustained power – that is power whilst the sun isn't shining – you'll also need batteries to store power. When installing solar panels it's a good idea to get a system with battery components that store energy that isn't used when production is high (lots of sunshine) so that you can access it later when production is low (not much sunshine or at night).
When choosing a solar system and battery storage option for your off grid home, it's important to determine how much power you'll be using — as this determines the size of the system and battery you'll need to delivery uninterrupted power to your home. You may even want to consider a grid-connected solar system. With solar panels connected to the grid it's possible to tap into the grid when stored energy is unavailable.
Also on the blog: Learn about passive solar design principles
Off grid water
Fresh water is another essential service that needs to be considered when going off the grid. When you disconnect your property from town water or mains water supplies you'll need to provide an alternative water source.
Your options here include drawing water from a stream or dam on the property, from groundwater (also referred to as bore water), and collecting rainwater. It's important to consider how the water is going to be used along with the energy required to draw it — particularly if you're going off-grid with power, too.
Why? Well, if the home is on higher ground than the water source (and it usually is for streams, dams, and groundwater) pumps will be required to draw up the water to the home. Equally, groundwater can be harsh on skin and clothes and may be more suited to gardening.
Rain collected from the roof surfaces on the property is an ideal option as it's fresh, works with gravity, and requires little power.
Whatever you choose, it's important to ensure the water collected is safe to drink. This means treating or filtering the water to ensure it's free of any contaminants and choosing water tanks that are made from food grade materials.
Also on the blog sustainable water saving tips.
Off grid waste water
When living off the grid, it's crucial to consider the safe and responsible disposal of your home's waste water. And we're not just talking about sewage here — greywater can be a breeding ground for bacteria and must be considered also.
Environmental sustainability is one of the core tenets for off-grid living, plus if you're relying on rain collected in tanks for all the home's water needs, you'll want to preserve as much as possible. Finding a way to recycle some of the wastewater (such as greywater) is important whilst processing the waste that cannot be reused (such as sewage).
Greywater comes from showers, washing machines, and sinks and can be collected and re-used for watering gardens and flushing toilets. This removes the need for rainwater for these functions.
Blackwater is sewage waste water from toilets and dishwashers. It can't be recycled like greywater as it contains solid food particles and human waste which are harmful to humans and require treatment via a septic system.
There are a range of environmentally friendly systems from which to choose including A & A Worm Farm Waste Systems.
Whatever wastewater option you choose, it's important to consider the number of occupants in the house and the average amount of rain typically available for collection.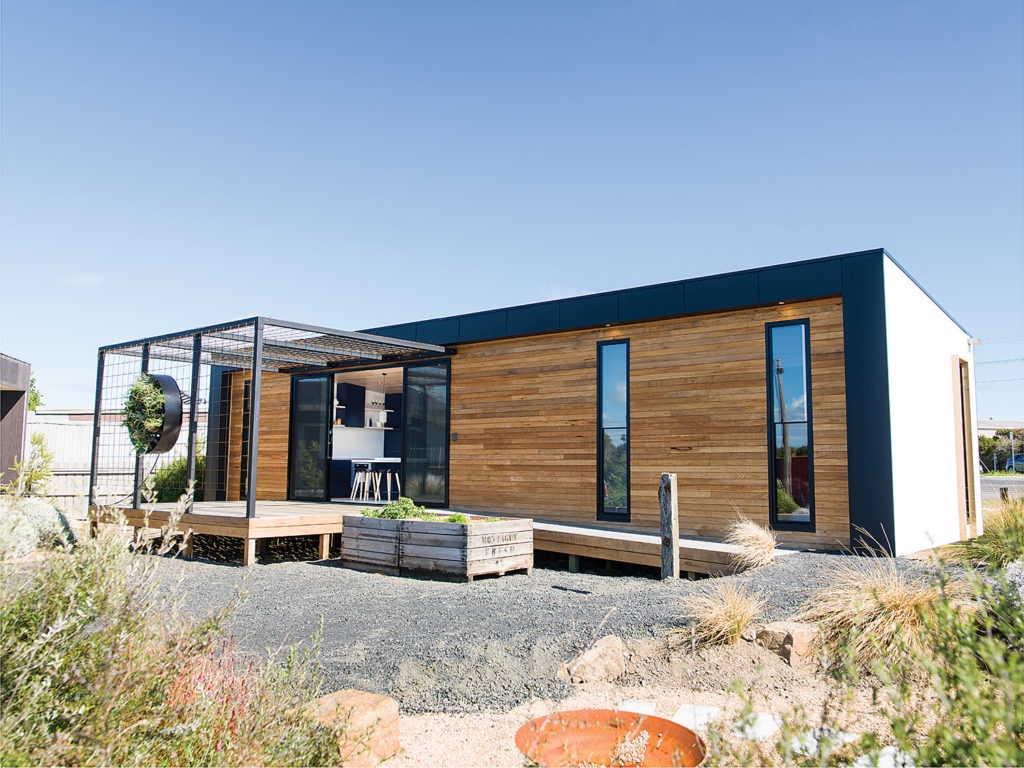 Care for the planet and reduce your environmental footprint in an Ecoliv off-grid home.
Pros and cons of living off grid living lifestyle changes
It's no secret that the cost of living is skyrocketing and people are struggling to make ends meet. More and more, we're hearing about people who have gone off the grid in order to live a simpler life, save money on energy bills, avoid mortgages or pay for groceries with food they grow themselves.
So, what are the pros and cons of living off the grid? Are there really cost savings? And is it actually feasible to live completely off-grid?
Pros of living off the grid
There are plenty of reasons and great benefits to living off the grid.
Lower utilities costs: one of the most significant and immediate benefits is the reduction or elimination of utilities costs. When your home is disconnected from the grid and is entirely self-sufficient, you'll no longer have energy bills and water bills to pay each month or quarter.
Financial savings: another great benefit of generating your own power through solar energy? Instead of paying bills, you could actually get paid. That's right. If you collect surplus electricity you can even give it back to the grid and receive payment.
Reduced environmental impact: one neat by-product of off-grid living is reducing the environmental impact of your home. When you're using solar power instead of coal-powered electricity and rain water instead of town water you're immediately improving your carbon footprint which is better for the environment and future generations. The best bit? When you build an off-grid home with Ecoliv we'll take care to choose sustainable materials and building processes, too.
Certainty of supply: if your home is in a regional or rural area, particularly where mains power and water aren't available or aren't consistent, off-grid living will provide a reliable source of energy and water. With the right collection, storage, and measurement systems, you'll be able to remain in control and ensure consistent supply of power and water.
Also on the blog: sustainable front yard design tips.
Cons of living off the grid
These are some of the considerations to bear in mind when planning your off-grid lifestyle.
You'll need to do the hard yards: in order to live off the grid with sustained power and water supply, there's a fair bit of work required to get your home set-up properly. This means working out your usage requirements for electricity, water, and wastewater so you can determine the size of solar system and battery storage, rain water tank, and wastewater recycling and treatment systems required,
High initial cost: along with the planning comes the initial costs of setting everything up – from purchasing the systems and equipment required to paying for the contractors and tradespeople to install it.
Whilst the initial work required and costs associated may be high it shouldn't be a deterrent as the environmental and financial benefits of getting off the grid certainly stack up in the long term.
A spectacular off-grid home in the Snowy River region
Living off the grid can be as simple as pitching a tent or parking your van on a plot of land. But if that's not your thing, it's good to know with the right system you can live in comfort (or even luxury) and still disconnect from the grid.
Chris Read and Suzanne Pelley, together with Ecoliv, have created a 7-star sustainability rated off-grid home positioned above the Mowamba River on their 48-hectare Jindabyne property.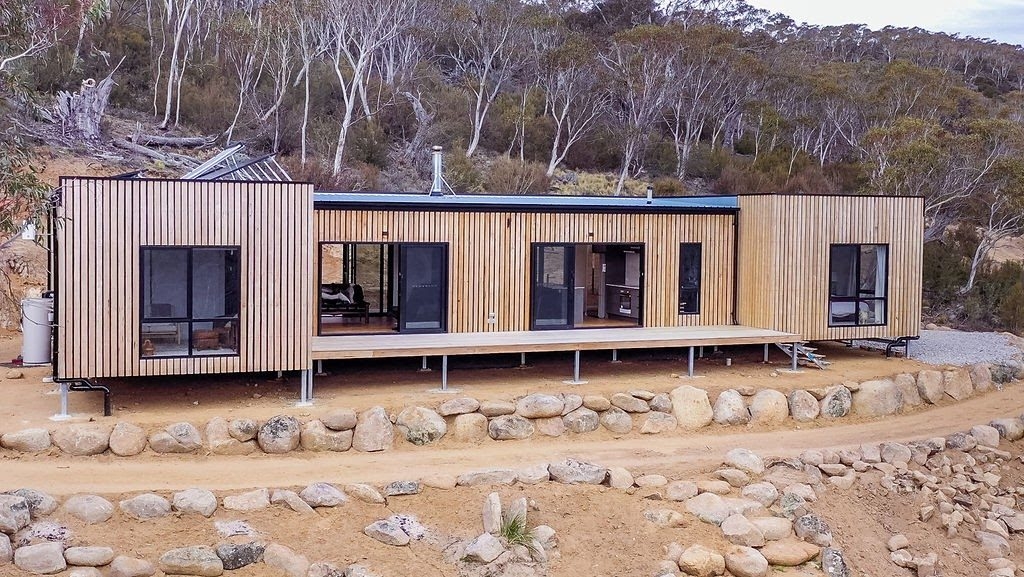 Ecoliv Jindabyne project – a 7-star sustainability rated off-grid home in the Snowy River region.
With their property in a relatively remote location, the couple opted for an Ecoliv prefabricated modular home entirely off the grid. The home features a 6.9-kilowatt solar PV array on the roof and 74.5 kilowatt-hours of batteries, along with on-site wastewater treatment. Riparian rights allow the couple to use water drawn from an abundant river on their property which is then pumped, using a separate solar system, into a 100,000-litre tank where gravity is then used to flow the water to the house.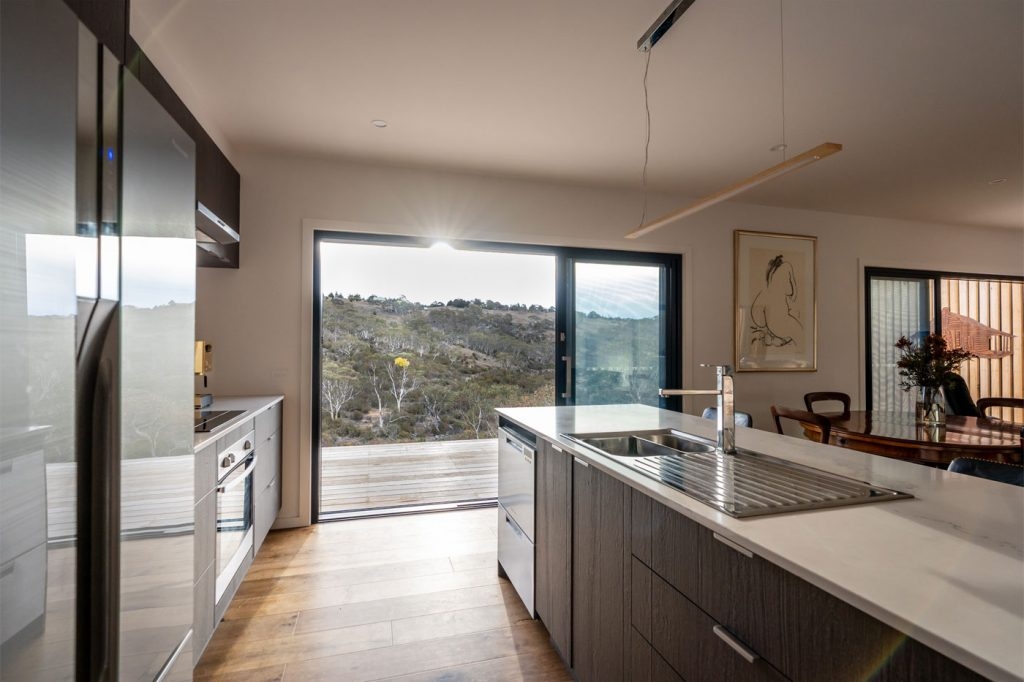 Ecoliv Jindabyne project – a well-appointed kitchen in this sustainable, off-grid modular home.
More than just being off the grid with a 7-star energy rating, the home also utilises sustainable building materials and practices to further minimise any negative environmental impacts.
Take a closer look at Chris and Suzanne's spectacular off-grid Ecoliv home in Jindabyne.
Also on the blog: sustainability trends and our sustainable renovation guide.
Got an off-grid home in mind?
If you're looking at living off-grid and want to build a sustainable new home that doesn't rely on mains power, water, or sewage disposal contact Ecoliv and let us help you Live the Dream Naturally.
Our team of designers, builders, and engineers can work with you to bring your off-grid dream home to life.
If you're looking to build a sustainable new home with timeless interior design, contact us today so we can help you Live the Dream Naturally.