Thinking about building an energy efficient home? Read our guide to improving the environmental sustainability of your home – from solar power to window placement.
Energy efficient house features:
Creating an energy efficient home design to lessen negative environmental impacts involves improving energy efficiency, reducing waste, and utilising renewable and responsibly-sourced materials in the building and construction process.
With energy derived from finite fossil resources being Australia's largest contributor to greenhouse gas emissions (1), taking steps to improve energy efficiency in the home is a powerful way for individuals to reduce their carbon footprint.
One of the best times to consider energy efficient house features is when you are in the process of building a new home or making additions or alterations to an existing property. At Ecoliv, our aim is to create homes with the highest possible energy rating that minimise the need for artificial heating and cooling and the associated financial and environmental costs.
What is an energy efficient home?
Energy efficiency is one of the key tenets of green building design and a primary factor in making homes more environmentally friendly. Energy efficient homes reduce wasted energy usage, greenhouse gas emissions, the reliance on non-renewable energy resources, and even lower energy costs.
The energy efficiency of a home is measured by the National Home Energy Rating Scheme – also known as NatHERS– which uses data from scientific research by the Commonwealth Scientific and Industrial Research Organisation (CSIRO) to estimate home energy consumption for heating and cooling. This rating gives the home a score between zero and 10 stars.
According to NatHERS, the rating system 'helps make Australian homes more comfortable for their inhabitants and also helps residents to save on energy bills through smarter design choices (3)'.
In Australia, all new residential buildings, home renovations, alterations and additions need to meet a minimum of six stars. At Ecoliv, we have a minimum seven-star energy rating for all our sustainable modular homes. This one star increase might not sound like much but it can reduce heating and cooling energy needs and the associated energy bills by 30 percent (4).
Ventnor 1 Project
Energy efficient home features: From insulation to roof materials to appliance selection
According to a 2008 report by the Department of the Environment, Water, Heritage and the Arts, heating and cooling accounts for 40 percent of the overall energy use around the home. But there's more to energy efficiency than simply switching off the lights when you're not using them — it's important to consider the bigger picture of how energy is consumed (and wasted) in the home.
There are numerous ways to improve energy efficiency from better insulation and more energy-saving appliances to building orientation and the position of windows, doors and skylights as well as being able to properly regulate the temperature of the home.
Homes with high performing energy efficient design and a significantly better star rating maintain moderate temperatures, lower humidity, and increased air quality. This results in a reduction in the need for artificial heating and cooling.
Learn about the features of energy efficient homes and how this aspect of sustainable building design can lessen negative environmental impacts, lower the carbon footprint of your home and even decrease financial costs associated with energy consumption.
Orientation and design
Carefully considering the orientation of the home on your site to leverage passive solar design principles and taking advantage of natural sunlight and shade can make an enormous difference to artificial energy consumption.
When building an eco home with Ecoliv, we assess your site and customise the design of your modular home for the best possible passive solar orientation. We consider things like elevation, site shape, slope, existing flora or fauna, and location-specific climate variations.
When orientated correctly a home typically reaches a higher star rating with ease ensuring internal temperatures are controlled year round.
A variety of shading techniques can help, from fixed or adjustable shading options to suit your site orientation, climate and latitude.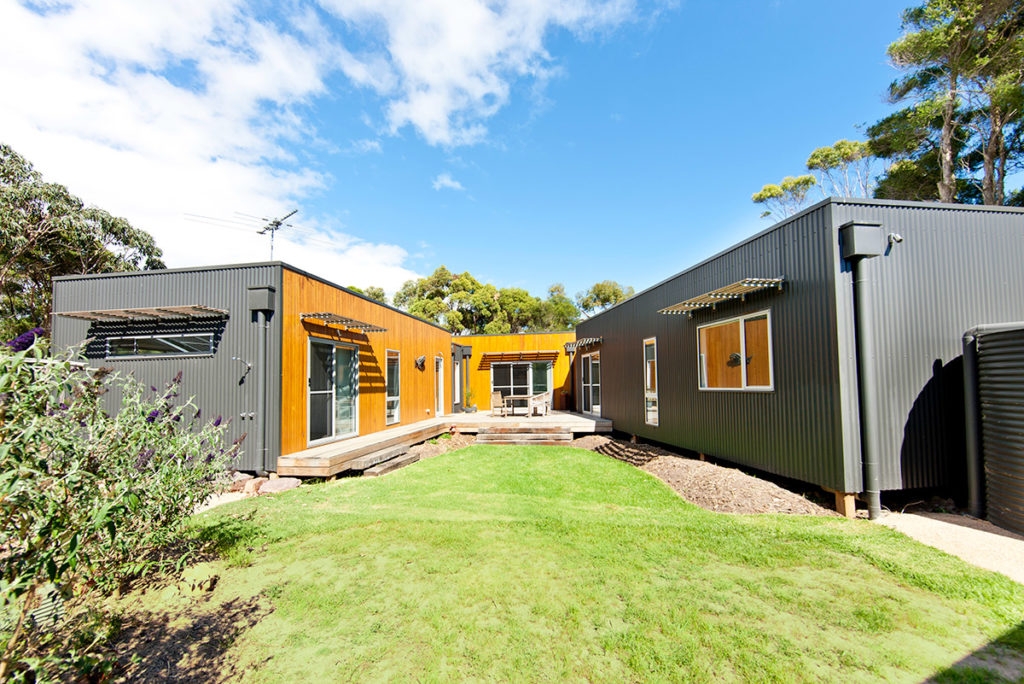 Ventnor 1 Project
Materials and construction
When it comes to eco-friendly design, it's important to consider the environmental impact of the materials and construction process and opt for locally sourced durable, renewable, and long-lasting materials.
Timber is a renewable and natural resource with relatively low thermal conductivity. Air pockets within timber's cellular structure create a natural barrier to heat and cold. Timber can be sourced from sustainably managed plantations or you can opt for composites made from recycled plastic and sawdust.
By utilising plantation timber sourced from Gippsland's renewable plantations, Ecoliv significantly reduces the negative environmental impacts that can arise during the construction and lifecycle of our buildings. Research has shown that using timber for framing and trusses can save up to 23 tonnes of carbon per home.
Steel on the other hand has high thermal conductivity and offers little barrier to heat and cold. Whilst this can be beneficial in roofing as it allows heat to quickly exit the roof cavity after the sun has set, quality insulation is required to prevent heat from entering the building during summer or escaping during winter.
Even the colour of paint used in your home can impact on the heat levels in a room. Opting for light-coloured wall paint can improve the levels of light in your house which, in turn, reduces the need for artificial lighting during the day.
Insulation and glazing
Windows can dramatically influence the heating and cooling loads of a building. Up to 40 percent of a home's heating energy can be lost and up to 87 percent of its heat gained through windows (5).
All Ecoliv buildings feature double-glazed windows with five-star Window Energy Rating System (WERS) glass. Installing curtains, blinds, awnings, and shutters may also serve to reduce your energy use — particularly where there are large window panes that allow a lot of light to enter the building.
Insulation creates a barrier between the outside and inside of your house — keeping the heat out in summer and keeping it in during winter. It's a one-off cost that's easiest to implement during the construction phase and can reduce heating and cooling expenditure by up to 50 percent. Find more energy efficient heating and cooling ideas on our blog.
Ecoliv includes high-level roof, wall, and floor insulation in each construction. Our glass wool insulation batts are manufactured using recycled glass bottles and sand. They are non-irritant and fully recyclable as well as thermally and acoustically efficient.
Finally with up to 25 percent of heat loss in winter caused by draughts (6), it's crucial to ensure your windows and doors are airtight and gaps and cracks are sealed to avoid wasted energy.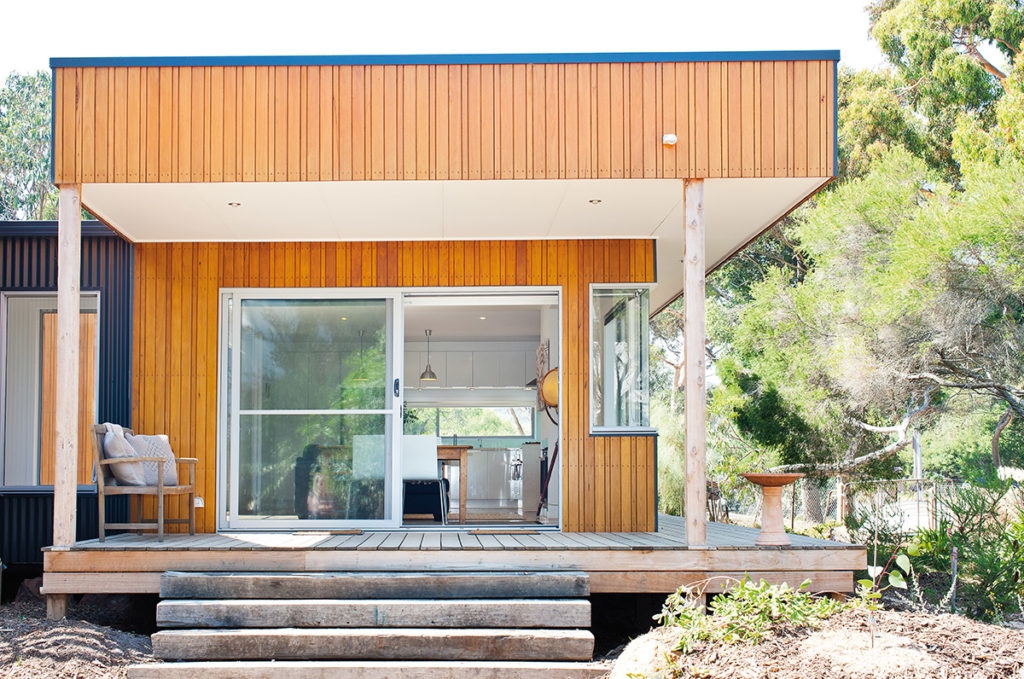 Ventnor 1 Project - Double glazed windows and doors from AWS
Resource efficiency
Electricity makes up 50 percent of energy used in Australian households. Given the majority of electricity generated in Australia comes from finite fossil resources, there are enormous greenhouse gas emissions associated with electricity generation.
Opting for renewable sources of energy such as solar power generates energy naturally and has the potential to reduce or even eliminate energy bills. In fact, installing a 1.98kW solar system can reduce utility costs by 51 percent — that's the equivalent of planting 51 trees per year and avoiding 955 kilograms of coal being burnt.
A solar hot water system can save up to $700 on energy bills per year by supplying homes with up to 90 percent of their hot water needs. We ensure that all rooms using hot water are grouped together, taking advantage of shorter pipes and minimising heat loss, with up to 60 percent of the total hot water bill due to heat loss from pipes.
To get the most out of a renewable energy system, minimising energy demand in the home is crucial. This is where considering building orientation and window placement, creating zones, and maximising insulation has considerable benefits. This coupled with maximum star-rated appliances and low energy consumption light bulbs makes for an energy efficient home. Here are some more energy saving tips.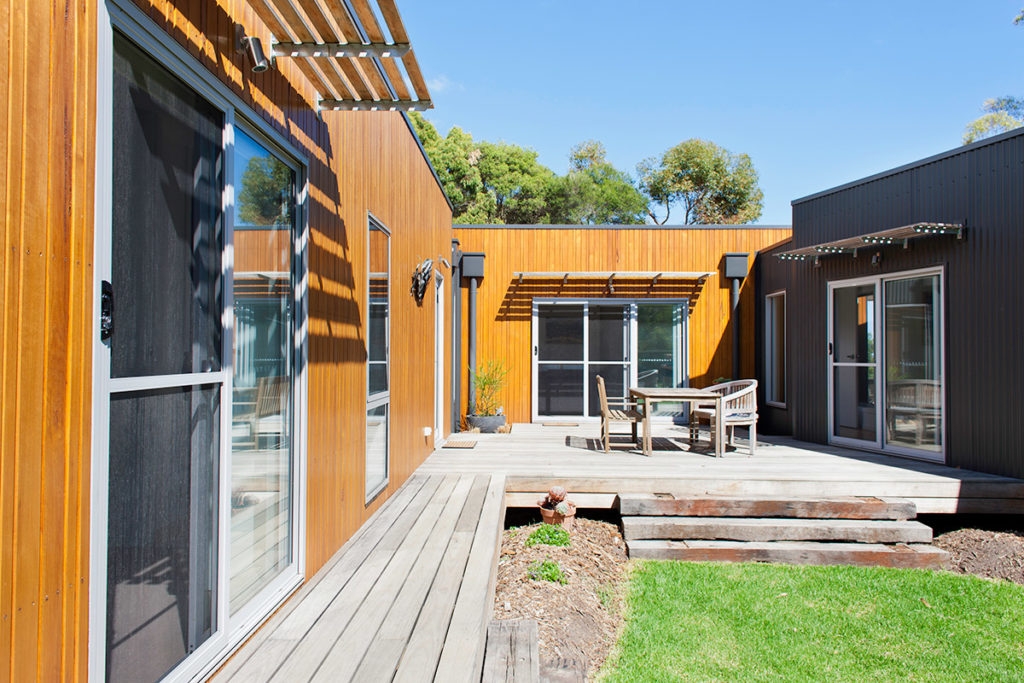 Ventnor Project 1 - Batten Shading
Energy efficient home checklist
There are many things we can all do to reduce our negative environmental impacts — including minimising our own energy consumption at home and lowering our carbon footprint.
Consider the orientation of the home to leverage passive solar design and existing shade
Consider window and door placement to maximise cross ventilation
Opt for double glazed windows to reduce heat loss and gain
Ensure gaps and cracks are sealed to avoid uncontrolled ventilation
Consider the thermal conductivity of materials
Consider natural and renewable resources
Choose a solar system for your home's electrical energy needs
Install a thermostat and energy monitoring system to track usage
Improve lighting efficiency by switching to LED bulbs
Choose the highest star rated appliances
Opt for a solar hot water system and group rooms with hot water needs closely together.
And, of course, consult with a specialist energy efficient home builder to maximise the efficiency of your new home or renovation.
Ecoliv energy efficient homes
When you build an Ecoliv prefabricated modular home you are choosing an operationally efficient and environmentally conscious home for the future. All our homes are rated under the National Home Energy Rating System (NatHERS) to ensure they meet a minimum 7-star energy rating.
Through a range of design and material choices, such as orientation, insulation and double glazing, we are able to reduce the need for artificial heating and cooling and build you the perfect energy efficient home.
For more information contact our eco-friendly building experts at Ecoliv now to discuss your site and project requirements.
References:
Contact us today to find out how we can help you Live the Dream Naturally.