When building a new home there are a number of different environmental considerations to be made. From sourcing and using environmentally friendly building materials to the construction method to ensuring we get the most out of our energy usage, there are so many ways we can save energy, and the environment, when we build a home.
Residential buildings are responsible for about 12% of Australia's carbon emissions and 24% of total energy use. So building an energy efficient home is a major opportunity for reducing our carbon emissions. 
In this article, we'll explore everything you need to know about energy efficient houses including:
What energy efficient homes means
Why you should invest in an energy efficient home
Methods of achieving an energy efficient home
Choosing an energy efficient home builder
Ways to embrace energy efficiency in the home
What is an energy efficient house?
An energy-efficient home uses less energy to achieve the same outcome as a traditional dwelling. 
An energy efficient home is not only environmentally friendly by reducing wasted energy and greenhouse gas emissions, but it can also offer healthier and cleaner living conditions for its occupants. In addition, energy efficiency often leads to financial savings on utility bills.
All new homes need to comply with the 7-star standard set by the National Construction Code, but even just a one-star increase can reduce your heating and air conditioning needs by 30%.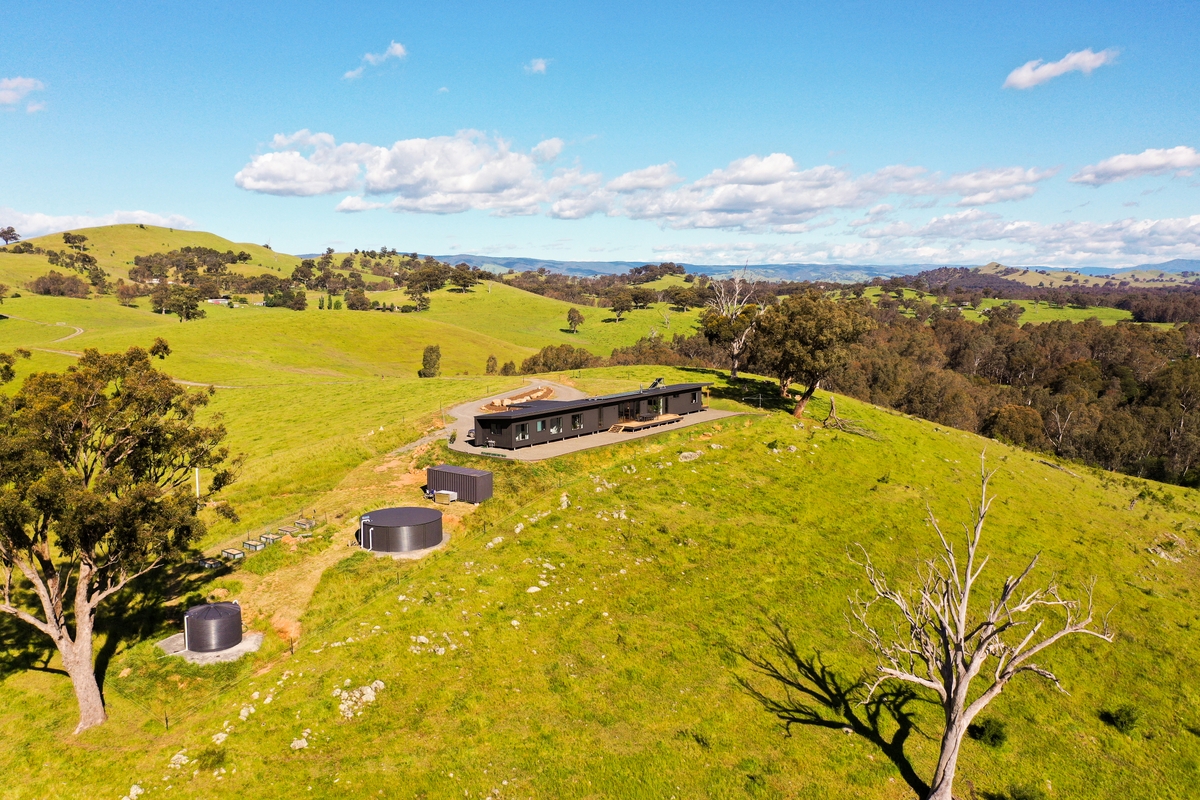 Why invest in, design and build an energy efficient home build?
Although the initial investment in a sustainable and energy efficient home is high there are many reasons to consider it. Not only will your home's value increase with its energy efficient features, but you can experience health benefits and a considerable decrease in your energy usage and running costs.
Energy efficient home design features: passive solar, materials, insulation and more!
There are a number of different energy efficient measures we can employ when building a new home from the exterior to the interior. Here are some key considerations when designing an energy efficient house:   
Orientation and design: By orienting your home on your site to take advantage of passive solar design principles and natural light and shade, you can make a big difference in reducing your artificial energy consumption.
Materials: The key to sustainable house design is to consider the impact on the environment when selecting materials. Look for durable, renewable, and long-lasting materials that are locally sourced to minimise your ecological footprint.
The construction method: Prefab construction is more environmentally friendly than traditional building methods. Prefab construction minimises the amount of waste produced during the build, minismises land disturbance and often results in improved build quality. 
Insulation: Insulation is key to regulating the temperature in your home, keeping it cool in the summer and warm in the winter. It's a onetime cost that's most effective when installed during construction.
Glazing: The type of windows you have in your building can play a big role in how much energy is needed to heat or cool the space. If you're looking to increase your energy efficiency, double glazing is a great option. Additionally, installing curtains, blinds, awnings, and shutters can also help reduce your energy use.
Renewable energy sources: Solar power is a renewable source of energy that generates energy naturally and could reduce or even eliminate your energy bills. Plus, any surplus power is sent back to the grid and you'll get a credit from the power company.
For more in-depth information about each of these, head to this article that delves into more energy efficient home features.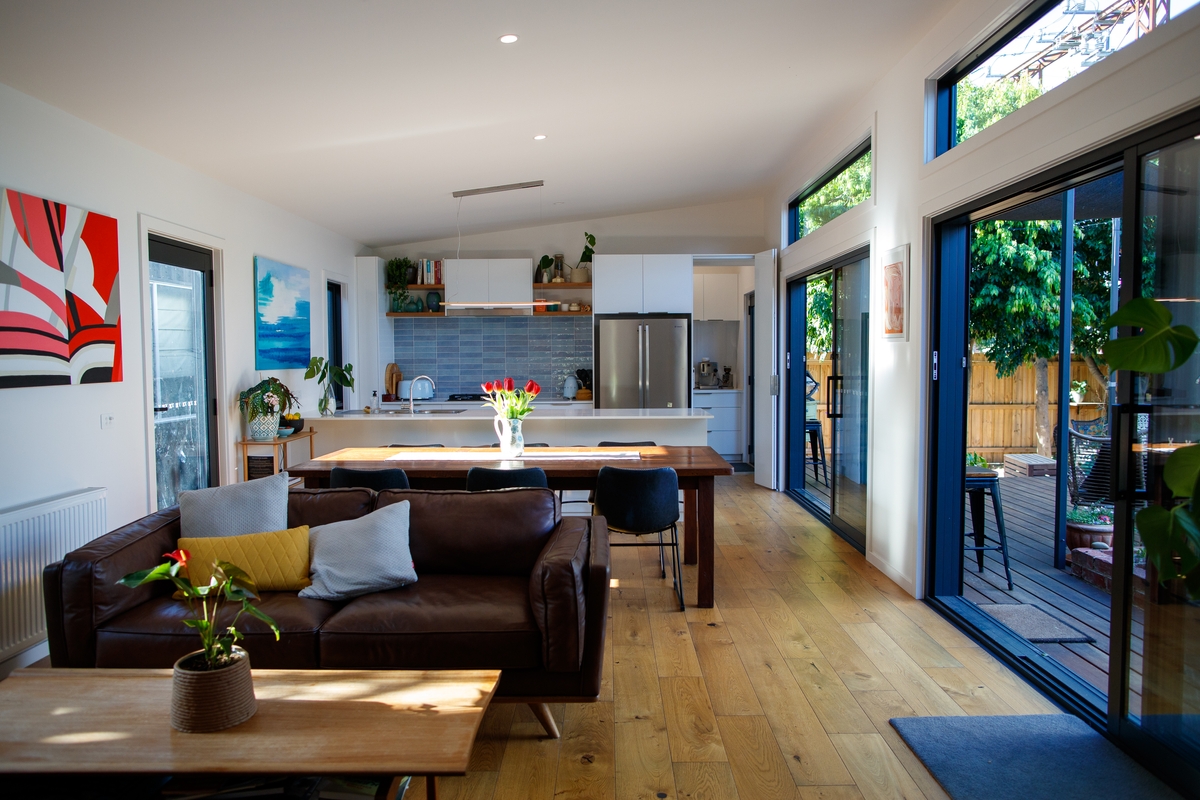 A note about 7-star energy ratings
Put simply, assessed by the Nationwide House Energy Rating Scheme (NatHERS), the house energy rating is a standard measure of comparison by which one can evaluate the energy efficiency of a new or an existing building. The higher the star rating, the less energy needed for heating and cooling the home to keep it comfortable for its occupants.
New rules have increased the minimum energy efficiency standards for new homes from 6 to 7-star ratings when using the Nationwide House Energy Rating Scheme (NatHERS). The best bits for homeowners? 7-star energy efficient homes are cheaper to heat and cool, more comfortable to live in, and more resilient to extreme weather. 
By opting to build 7 star rated energy efficient home, you can help make a real difference by living with a smaller environmental footprint on our earth home all while you save money on your energy bills. 
Learn more about 7 star energy ratings.  
At Ecoliv, we take the guesswork out of building energy efficient houses. We've done the research, sourcing and factored in all of the above into every eco-friendly home design and build. With over 13 years of experience creating stunning sustainable 7-star rated energy-efficient homes, you can rest assured your Ecoliv home will tick off all of these crucial environmental considerations.
Get inspired for your energy efficient home project by exploring Ecoliv's featured builds.
Choosing an ultra-efficient sustainable home builder
There are many things to weigh up before selecting the home builder that's right for your project, goals and values. Here are some key questions about energy efficiency to ask your builder before going ahead:
Can you integrate passive solar design principles into the home design?
Where will the materials for my home be sourced?
What plans will be in place for construction waste management?
What initiatives and environmental certifications do you have to minimise your environmental impact? 
For more considerations take a look at our energy efficient builder guide.
Ways to save energy at home
Maybe your ultimate energy efficient home build project is a little way down the road. But what can you do in the meantime to save and conserve energy at home? Here are some ideas:
Update old inefficient power sucking white goods and replace them with water and energy efficient appliances.
Upgrade your windows to minimise heat and cool air loss. 
Add more insulation to your ceiling and floor.
Invest in solar panels to reduce your home's reliance on the electrical grid.
If you are ready to build, here are our 5 energy saving tips for your new home.
Building a house, especially one that is built to be environmentally friendly, can seem like an overwhelming process at times. There are so many different things to consider and many rules and regulations that can make it confusing. We hope that this blog has been able to simplify the key considerations for you, so that you can fully understand what's involved and build a house that is not only great to live in but will also help save the environment.
The important thing to remember about building and maintaining an energy efficient home is that it's a continuous process. As our technology improves and new materials become available, we will see more advances in eco-friendly building materials and techniques. 
Ecoliv are proud to help our clients design and build their dream homes with green materials and the latest modular home building techniques in a way that is good for the environment, you, and your family. If you'd like to know more about how to go green with your new home build, please feel free to get in touch today.