Whether you rate the sturdy streamlined look of metal or you prefer the warmer textures of jarrah timber panels, recycled brick or charred timber cladding, there are so many fantastic dark exterior trends to choose from to elevate your home's appearance.
Contemporary, sleek, bold and stylish, it's easy to see why dark facade options have become popular in home design during the last decade or so.
At Ecoliv, in line with our environmental goals, we use a variety of cutting-edge and sustainably sourced cladding products.
Cladding your home is a big investment and there is such a huge variety of finishes to choose from to achieve your dream dark exterior, it can be tricky to know where to start.
When choosing cladding for your home we recommend selecting materials that are:
Durable and fade resistant
Lightweight
Low maintenance
Visually appealing
As part of our standard inclusions when building a modular Ecoliv home, you have a choice of two excellent materials for external cladding widely recognised for their lightweight qualities, low environmental impact and sleek finish: Weathertex or Colorbond steel.
To ensure minimal environmental impact Weathertex is manufactured using waste timbers and no artificial glues or binders. While Colorbond steel contains recycled content, is 100% recyclable and its long lifespan helps conserve resources and energy.
We also frequently source external cladding products from Shadowclad, Scyon, Cemintel and Radial sawn timber.
We've compiled this list of our favourite dark cladding trends from real-life Ecoliv builds to help inspire and guide your facade choice for your home. Can we convert you to the dark side?
Colorbond cladding
Simple vertical lines draw the eye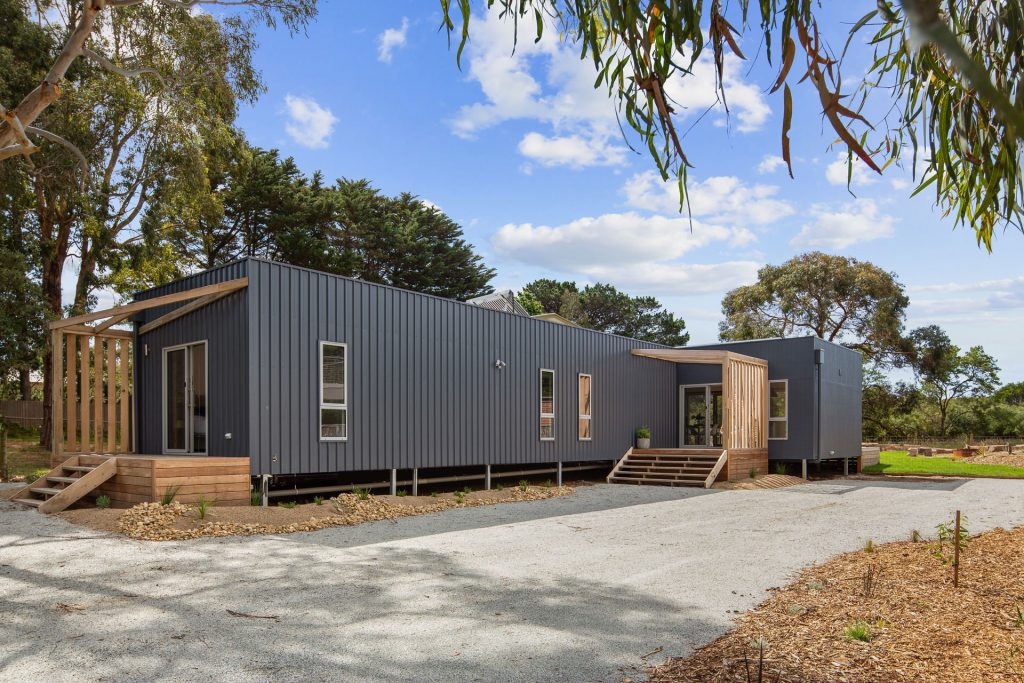 Minimalist and edgy, the Heyley project showcases the clean lines of Colorbond steel Trimdek cladding in an Ironstone finish. Simply stunning.
Corrugated wow factor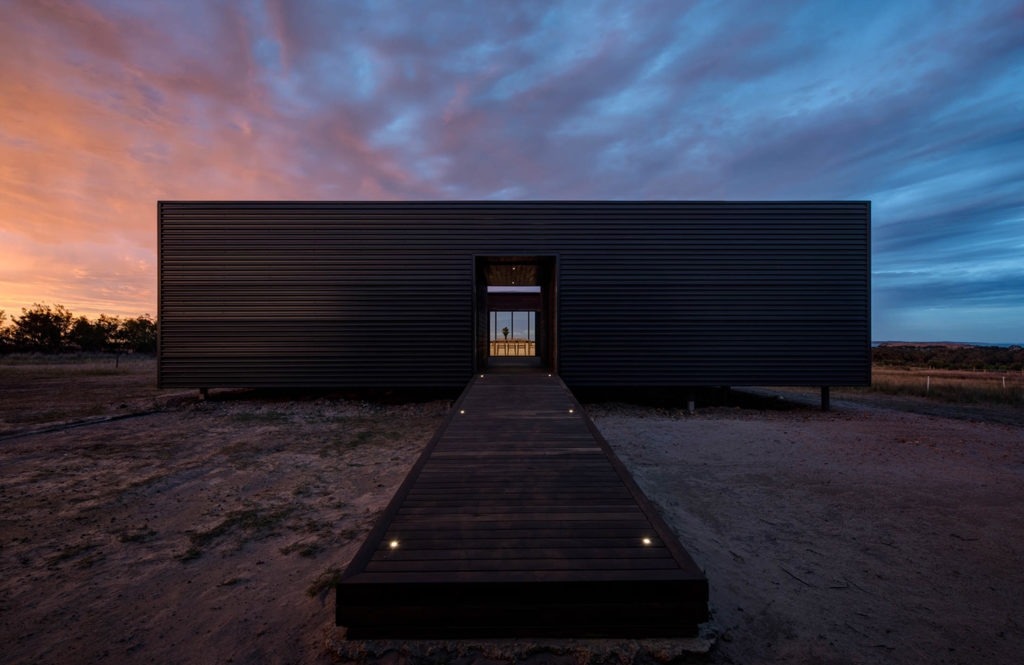 An architect-designed take on a modern farmhouse, the French Island build utilises moody dark grey corrugated steel cladding to protect the home on this windswept rugged site.
Vertical lines create a contemporary aesthetic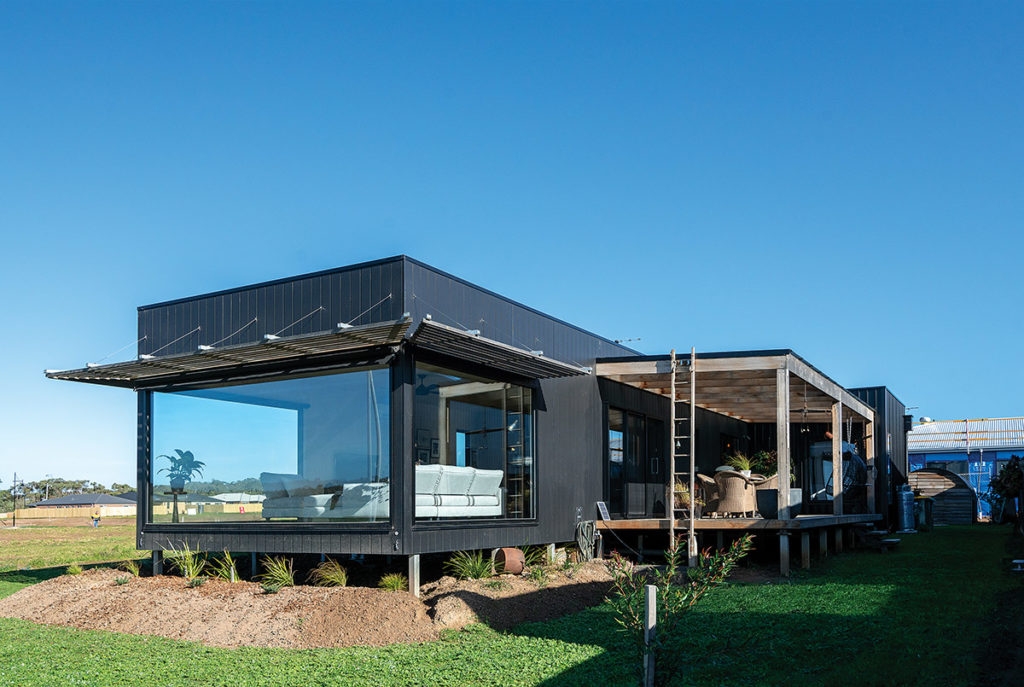 A combination of Colorbond Trimdek in Night Sky and vertically grooved Weathertex Smooth cladding is the perfect choice for this low-maintenance Everton project designed with retirement living in mind. Sleek, refined and practical, the Coast facade incorporates easy indoor-outdoor living with the addition of an expansive covered deck off the main open plan living area.
Lightweight cladding
Rustic vibes with textured vertical panels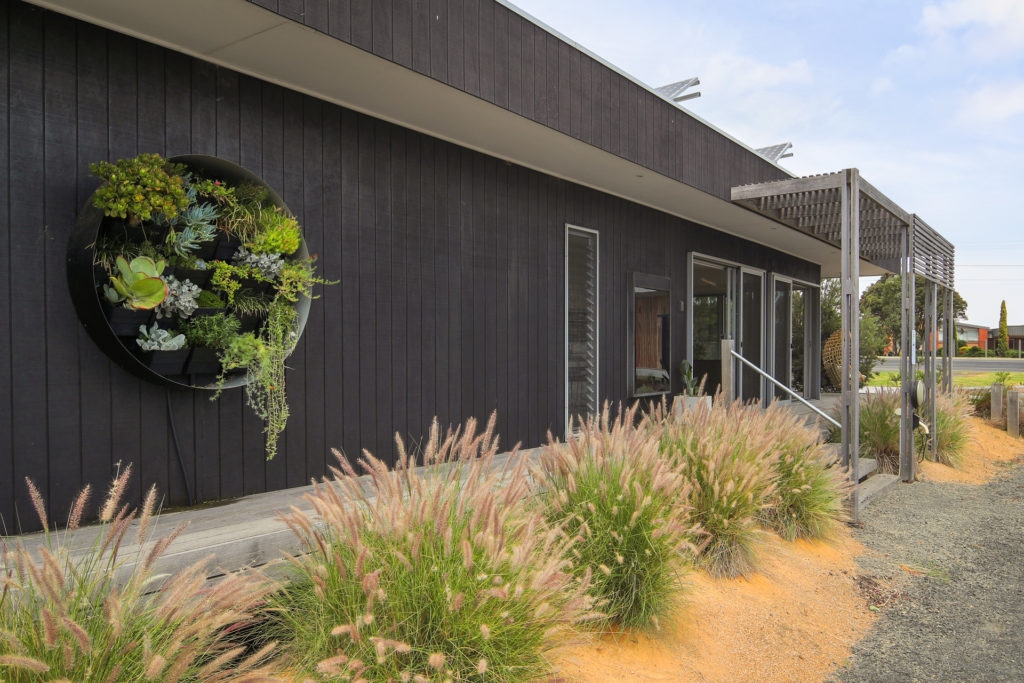 The Urban facade pictured here includes a 900mm eave overhang and timber shades, this smooth exterior uses vertical Shadowclad natural texture wall panels to great effect and introduces a nice pop of colour with a cylindrical vertical garden on the exterior. Step inside the Ecological 3 build.
Fuss-free charcoal magic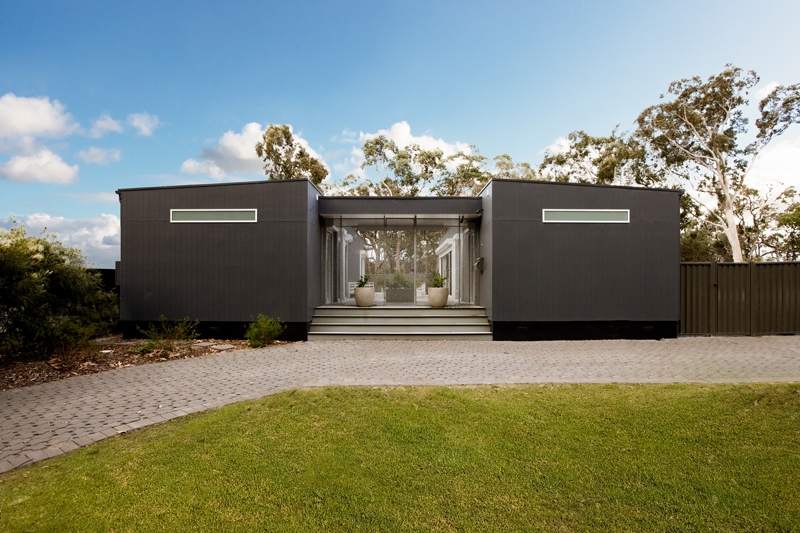 Dark grey timber Weathertex panels work a treat to give this Callala beach abode an ultra-modern minimalist vibe.
Natural timber cladding
Warm timber and bold Alutile panelling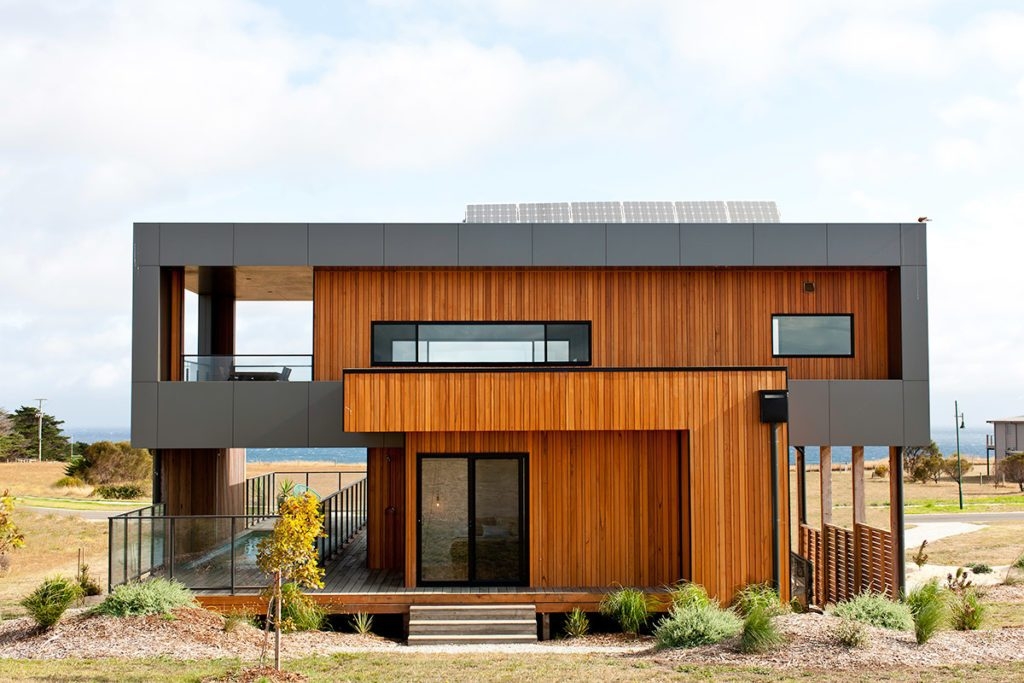 The exterior of this contemporary San Remo project combines striking warm silvertop ash cladding and dark grey Alutile, a durable aluminium composite, to bring attention to the home's interesting structural form and architectural details.
Eye-catching timber, metal and brick combo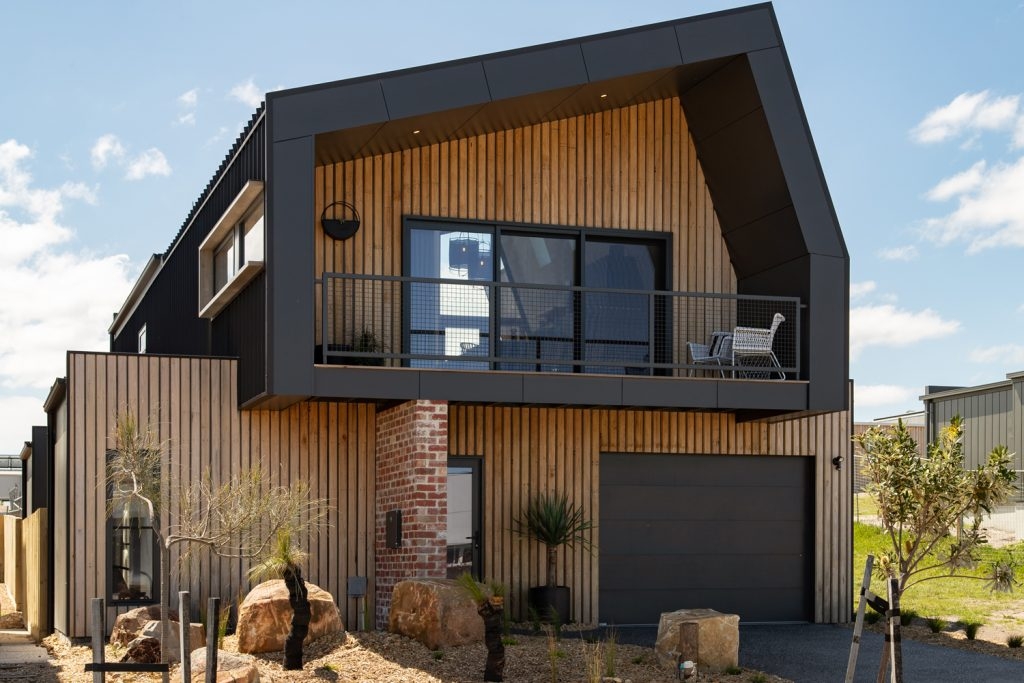 Robust and unified exterior cladding combines Colorbond matt metal in Monument, recycled brick and silvertop ash timber battens in our unique Cape project.⁠
Light and dark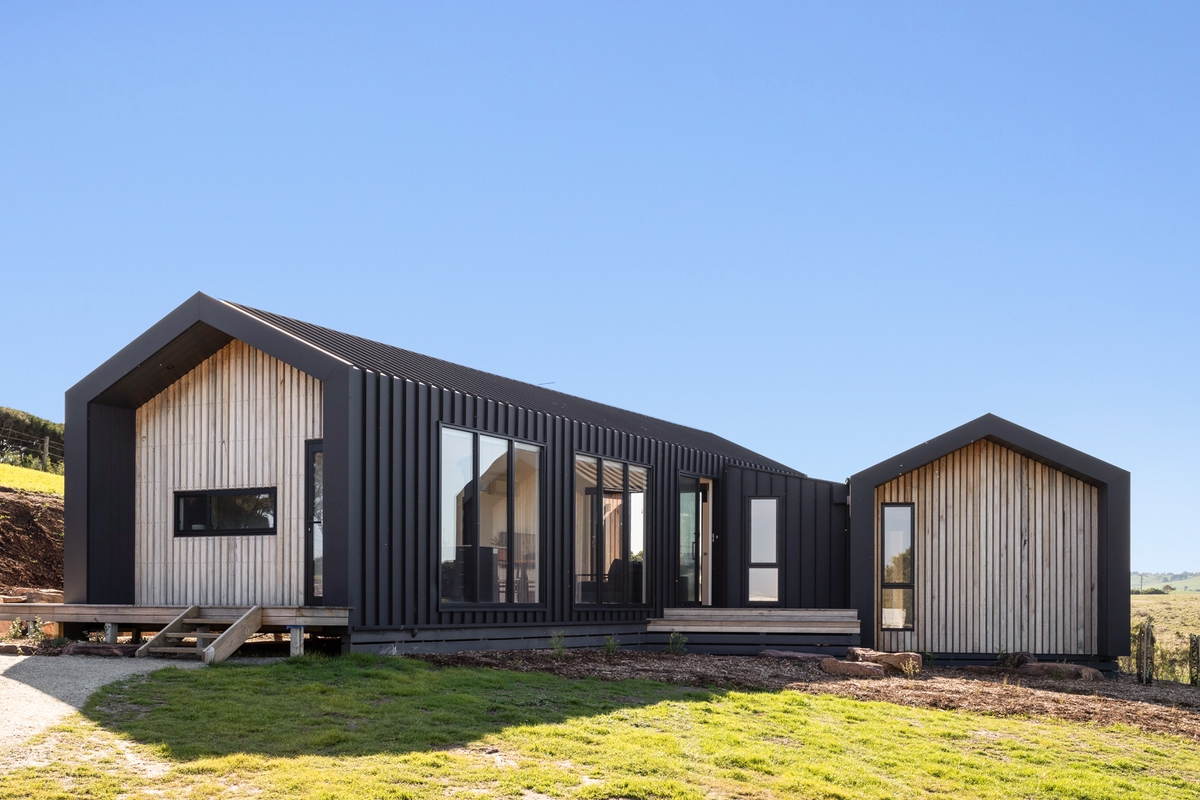 Matt monument Colorbond Enseam cladding and breathtaking timber silvertop ash battens work beautifully side by side to bring the monochrome facade of this minimalist barn-like exterior to life. See more of the Kilcunda project.
We hope these dark exterior trends have given you food for thought when it comes to selecting a facade style and material specifications for your new home.
Have questions about which dark facade option is right for your site or building a new sustainable home? Get in touch with Ecoliv's expert team of home designers. We'd be more than happy to help.
Contact Ecoliv today to start the process of building your dream (green) home.