4 reasons why smaller homes are better
What's the average house size in Australia? And why do Australians need to consider building and living in smaller homes, now and for the future?
Australia's interest rates hit a seven-year high in September after the fifth consecutive month of hikes, putting increased pressure on homeowners. Economists predict interest rate rises will continue into 2023.
Meanwhile, the rising cost of living is also causing concern in Australian households with the latest data from the Australian Bureau of Statistics showing prices climbing by 6.1% in the June quarter.
Plus scientists warn the government's climate target to cut greenhouse gas emissions by 43% by 2030 "is not good enough…The science is indicating that net zero by 2050 is too late to stay well below 2 degrees [the target agreed in Paris]."
In this uncertain economic and environmental climate, building smarter and smaller houses makes sense financially and is the best way forward to fight climate change and better care for our earth home.
In this article, we will explore the average size of newly built homes in Australia, how the size of a home differs around the country and the 4 greatest benefits a home buyer gets by opting for a smaller home.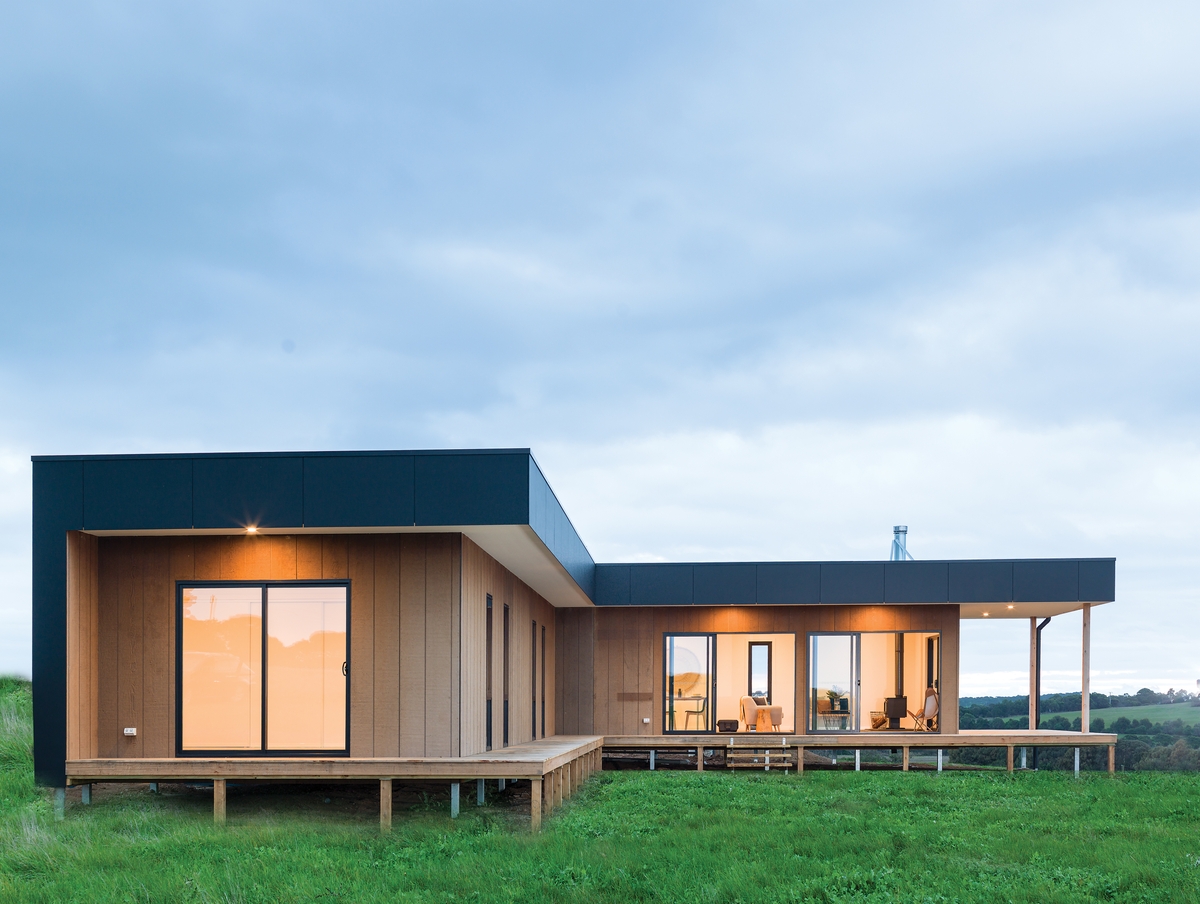 What is the average house size in Australia?
The latest ABS data, based on new private sector house building approvals from 2012–2021, shows that Australians are building houses on smaller blocks of land than in the past but still have an appetite for relatively large houses compared to the rest of the world.
The average site area of new homes built in Australia has decreased significantly (down 13%) over the last decade, from 496 square metres in 2012 to 432 square metres in 2021. While the average floor size of a newly built house was 245 square metres in 2012 compared to 242 square metres in 2021, so not much change there.
Why are new home build sites getting smaller?
Reasons behind the steady decline and trend towards smaller lot sizes over the past decade include the increasing cost of land, a high proportion of new housing being built in urban infill areas and more double storey houses being built to maximise floor space on the smaller blocks.
How does Australian home size by state vary?
The biggest houses in Australia are found on the east coast in NSW, QLD and VIC. Greater Sydney, Melbourne and Brisbane have the biggest average floor areas for new houses, at 254, 247 and 241 square metres respectively. While in Adelaide and Perth the size of houses is a bit more on the conservative side, measuring 220 and 214 square metres each, according to the ABS data.
Advantages of smaller Australian houses
Cost less
A great reason to opt for a modest block size and a smaller home is the host of big financial benefits to the homeowner. There are many savings to be had in terms of the initial construction cost, ongoing mortgage repayments, stamp duty, and insurance, as well as for renovations and maintenance later down the track, these items will generally come in at a lower price for a smaller sized home.
As a ballpark idea for build costs for smaller sustainable homes, our EcoLiving range (which comprises one, two, three and four bedroom configurations) starts at $314,000. While our family-friendly EcoSanctuary range (comprising 7 different designs that are suited to typical urban sites) starts from $387,000.
Live more with less
Living in a smaller home means you consider all your possessions more carefully and there's less chance to accumulate an excessive amount of clutter that weighs you down physically and psychologically.
Research shows that cluttered home environments negatively impact the perception of our homes and our life satisfaction. Another study even shows that clutter increases cognitive overload and can reduce our working memory capacity.
We believe living in a smaller home forces you to cut the clutter, which in turn helps you feel calmer in your home sanctuary, be more productive and has the bonus of treading more lightly on the planet by intentionally consuming and discarding less.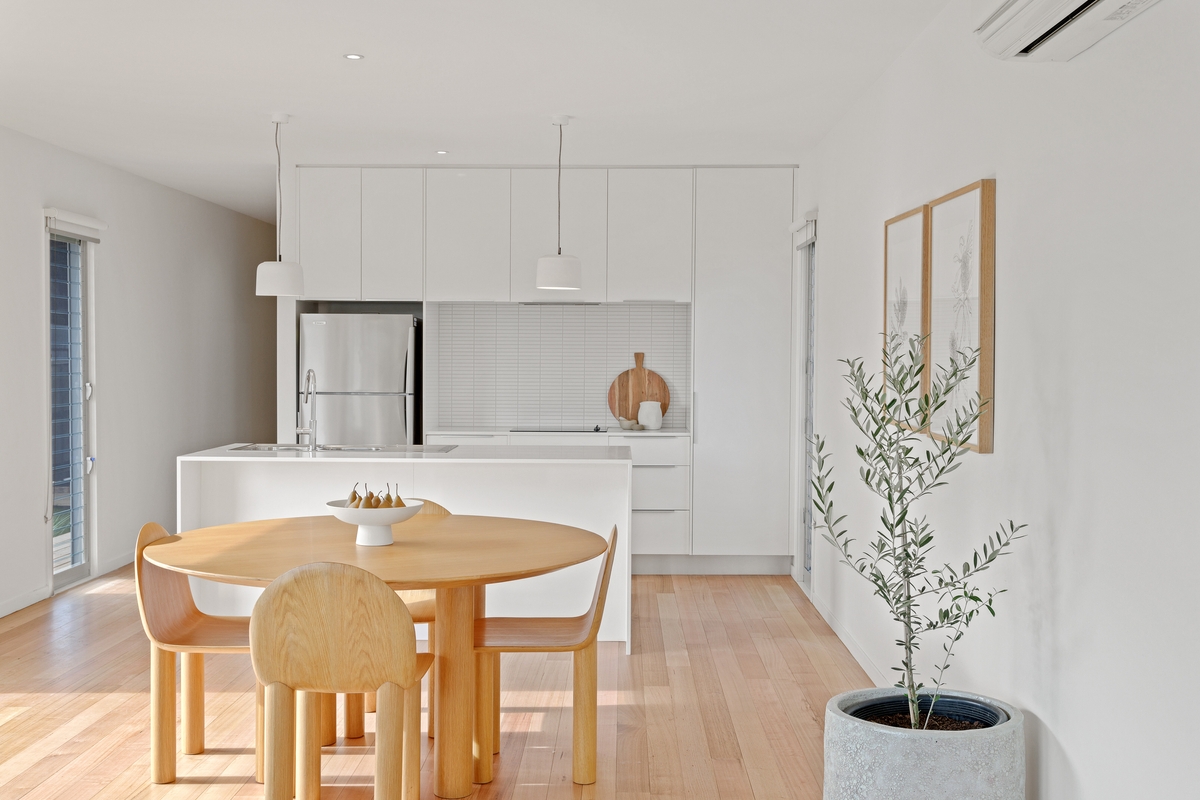 Energy savings
With the energy affordability crisis looming, living smarter and smaller is becoming all the more appealing. Living in a smaller home means significant savings on lighting, heating and cooling bills as there is less living space to illuminate or keep warm or cool.
The latest Energy Consumer Sentiment Survey shows that 88% of Australians are highly concerned or somewhat concerned that energy will become unaffordable for them over the next three years and just 40% of Australians have confidence that the overall energy market is acting in their long term interests.
So now is the ideal time to invest in a sustainable small home powered by renewable energy to safeguard your future power supply and reduce your consumption and the associated costs.
Every EcoGeneration home features a 5.5 kW grid-connected solar power system. When comparing the average operational cost of a 3 bedroom 2 bathroom volume builder home versus a 3 bedroom 2 bathroom EcoGeneration home, you could save $1012 a year in electricity bills.
Reduce C02 emissions
Opting to build and live in a smaller home doesn't only provide great advantages for the home's inhabitants (such as bill savings and less maintenance time) but provides many awesome benefits for the planet.
Take our EcoGeneration 2A display home (coming soon) for example. This design is 117.05 square metres which includes 2 bedrooms, 1 bathroom, a home office, a beautiful open plan living area with a deck and, best of all, it is operationally carbon neutral. Meaning this home, and all the homes in our EcoGeneration range, have been designed to produce enough renewable energy to offset the annual greenhouse gas emissions associated with its energy use.
In fact, our recent Life Cycle Assessment by eTool showed that over its lifespan the EcoGeneration 2A display home will emit 570 tC02e less than a standard home providing the same functionality. That amount of carbon dioxide is equal to 3421 trees planted, 150 cars off the road for a year or 17 million balloons of C02 gas removed from the atmosphere.
In summary, the advantages of smaller homes are:
Small homes are easier to clean and maintain.
Small homes are less costly to build, renovate and run.
Small homes have less impact on the environment and resource consumption.
Ready to build a small home and live smarter?
Building a home to live smaller and smarter has so many benefits for homeowners and the natural environment. Talk to the Ecoliv team today about turning your small sustainable home dream into a reality and learn more about why modern comfortable living doesn't need to compromise the natural environment.